Our Journey with God
Jesus said: "You will receive power when the Holy Spirit has come upon you, and you will be my witnesses to the end of the earth." Go in peace now knowing the Spirit that knows you by name and speaks to you in your native tongue is with you always.
We have journeyed through the Church Seasons of Lent and Easter and are now in the season of Pentecost. Sometimes the Sundays in this season are called the Ordinary Sundays.
We must remember this statement that Jesus said to his followers all those years ago has been passed on to us.
This is true for each one of us, but what does it mean in our lives. If we are living in this way no Sunday or any other day for that matter will be "ordinary" days. It is this Spirit of God that enables us to carry out our daily tasks as we seek to follow in Christ's footsteps and to do God's will.
Life is exciting and it is a great privilege to be able to help and support each other and to feel that we are able to contribute to making positive changes in people's lives.
We have much to give thanks for in our lives when we look at the many blessings we have received. During our service on Pentecost Sunday we took time to stop, think and share about the things in life for which we should remember to stop and say thank you. It is easy to take so many things for granted. At the 9:30 service these were discussed in groups across ages. The gifts we had received for which we gave thanks were written on doves and then placed around the cross so beautifully decorated by Ann Rollinson.
It is with sadness that we have had to farewell two very faithful and committed members of our church who have served God well over a long period of time. One was Jack Oswin, who served as the parish recorder over many years. Jack along with Marie, cleaned up the fallen leaves from the chestnut trees, cleaned the windows in the complex, washed, cleaned and cared for church linen, brass and silver for many years as well as working in the community with meals and wheels and countless other tasks. Jack was present as a small boy at the laying of the foundation stone of St Andrew's Church. Daisy Lundberg, another dedicated parishioner who mainly attended services in Buckland, also served the parish well in so many ways faithfully setting up for the Eucharist and being a very committed member of both the Mothers' Union and the Women's fellowship.
May Jack and Daisy rest in peace, and rise in glory.
This year has been a busy year, with 11 funerals to date.
Early in August we will be farewelling Sylvia from the parish office. Sylvia tells me she has worked in the office for 33 years initially as a volunteer and then as a paid member of staff. We thank Sylvia for her commitment and service to the parish.
Pentecost blessings to you all.
Jan
From the Parish Registers
Funerals
Thursday June 1: John (Jack) Hanbury Oswin
Wednesday June 21: Daisy Constance LundbergRest Home Services — July
Rest Home Services – July
Palms Rest Home: 10.30am Tuesday July 4
Palms Hospital: 11am Tuesday July 11
Lakeside Rest Home: 10.30am Wednesday July 12
Pukekohe Hospital: 10.30am Wednesday July 19
Possum Bourne Village: 11am Tuesday July 25
Anyone who wishes is welcome to join us at these services
Bible Readings in July
July 2
First: Genesis 22: 1-14
Gospel: Matthew 10: 40-42
Theme: Even a Cup of Cold Water
4th Sunday after Pentecost
July 9
First: Genesis 24: 34-38, 42-49, 58-67
Gospel: Matthew 11: 16-19,25-30
Theme: Delight
5th Sunday after Pentecost
July 16
First: Genesis 25: 19-34
Gospel: Matthew 13: 1-9, 18-23
Theme: Divided
6th Sunday after Pentecost
July 23
First: Genesis 28: 8-21
Gospel: Matthew 13: 24-30, 36-43
Theme: Promises
7th Sunday after Pentecost
July 30
First: Genesis 29: 15-28
Gospel: Matthew 13: 31-33, 44-52
Theme: Honour
8th Sunday after Pentecost
Sunday School
Our thanks to Nick and Liz Bagley for the help with Sunday School for the first half of the year. They have done a great job — thank you both.
This leaves us looking for some people who are able to offer some support in assisting with the Sunday School on a roster basis or if someone is willing to take on a longer term commitment that would be fantastic. Please speak to Jan if you are able to assist with this.
Parish Breakfasts: Help Wanted
We are seeking a few volunteers who are willing to work with Richard and Diane Anderson so we can maintain our wonderful parish breakfasts next year. This is on four Sundays spread throughout the year. We are very grateful to Richard and Diane's family who have supported them during the years they have been greatly enhancing the social life of the parish by catering for these events. The dates for the parish breakfasts later this year are on the September 17 and October 29.
Movie Fundraiser
Sunday July 30
5.30pm, Pukekohe Cinemas. Tickets $20.00. This Beautiful Fantastic, a contemporary fairy tale. There are still some tickets available to this. It is the only screening of this film in Pukekohe. Donations of wine for the raffle welcome. Please give to Glenis at a 9.30am service or leave at the Parish Office.
Soup and Fellowship
Sunday July 2
We are starting the Soup and Fellowship Lunches on Sunday July 2. Anyone who would like to join us is invited to add their name to the list at the back of the church. Otherwise you can contact the parish office (09 2387228) instead. It will be a great way to get to know each other a little better. Come and join us. All are welcome.
Conversation with Myself
Based on Matthew 10:24-39
Have you ever been conflicted? If you haven't or don't understand what the word means it's like this: you know deep in your heart there is something you should do, need to do, but you also know deep in your heart that if you do it other people will not like it, or be hurt by it.
You have to sort out what to do, and your thoughts swing and sway from one idea to the next trying to see if there is a way you can do what you need to do, without there being any negative consequences; but a perfect solution never turns up. You feel a bit torn apart inside, queasy in the stomach.
I come from a time long ago, a time when a man named Jesus was on Earth. Recently I have come to know Jesus. He is the most interesting and thoughtful person I have ever met. I guess you could say he is an itinerate preacher, he travels from town to town with a band of followers, talking about God and curing people. I have seen the way he brings joy into people's lives, he takes notice of those who have been overlooked and excluded, and makes those who thought life was not worth living rethink and see their own value. He cares.
Jesus is asking people to join him, to be part of his team, to travel around and tell more and more people about God, to be a person who brings hope and joy to those who feel lost and alone. I would love to do this with all my heart … but I'm conflicted.
This is the conversation I am having with myself in my head: "If you choose to go ahead and join Jesus, you will upset your family. They will be really disappointed and feel let down because you have responsibilities that you won't be able to fulfil. There is a good chance they will be really angry. There are some pretty big consequences for you and your family if you go. "If you go, you could end up in some scary situations. Not everyone likes Jesus and some people will behave badly toward you. Jesus says God will be with you no matter what happens; but are you courageous enough to cope with the hardships?
"If you choose to do nothing and stay at home, you know you'll live with regret. This is a once in a lifetime opportunity."
There will never be another moment like this and your heart is aching to be part of something that is so exceptional.
If you stay home, the consequences will be living your life a little bit heartbroken, but you will have been true to your family and fulfilled all your obligations. "Jesus can see that I'm struggling with all this. He knows what he is asking me to do is hard, but I'm asked to choose.What do you think I should do? What is God asking of you? How will you respond?
From Seasons of the Spirit. June 25 2017
Mothers' Union
Wednesday July 5
10am service in the Parish Lounge, followed by a meeting. All Welcome
Musical Event
2pm Sunday July 9, St Andrew's Pukekohe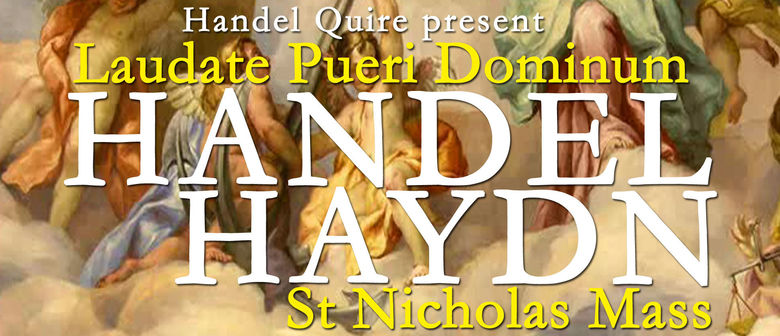 Laudate Pueri Dominum by Handel and St Nicholas Mass by Haydn
Worship Services
Celebrating Pentecost
Disability Sunday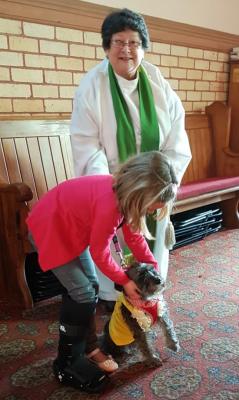 Sandra Gibbons with her dog Tammy, who was training as a hearing dog. Thank you Sandra.
It's not easy to feed someone when you can't see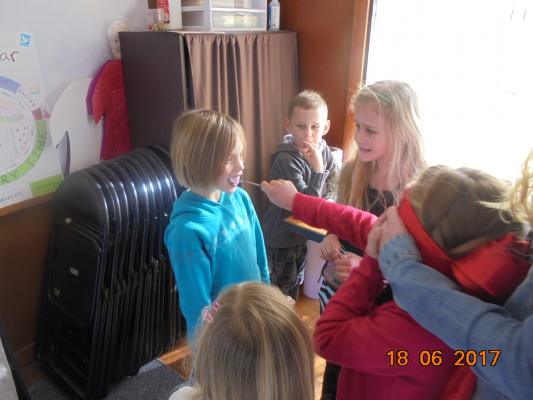 Neither is drawing or writing when you can't use your hands.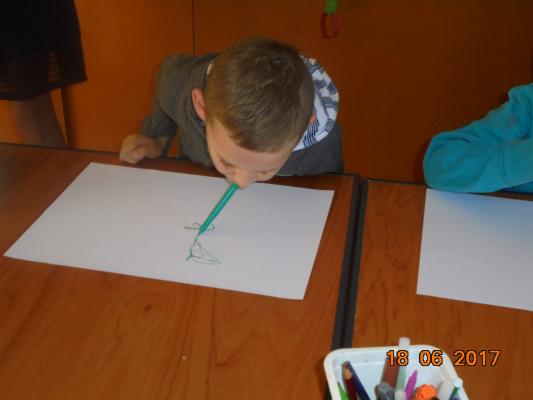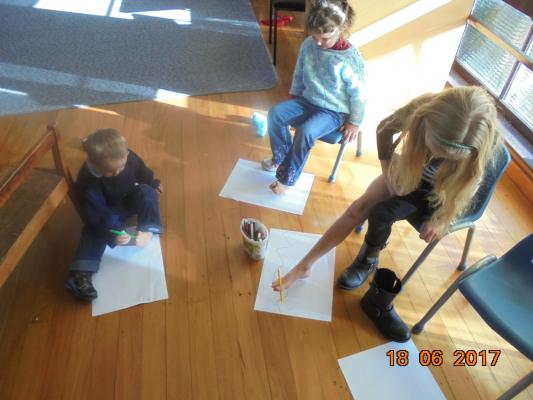 When we had the reading of the Creation story from Genesis we again reflected on the things in life we should be grateful for and how it is our responsibility to care for these gifts so they can be passed on to future generations.
The children visited our worm farm but some of them were not all that impressed.
Pyjama Plea
Jan is working with David Kemeys of the Middlemore Foundation to try to cut back on the number of children admitted to hospital with respiratory illnesses during the winter months.
We have many boxes of pyjamas already but need nearly 300 more pairs.
The contribution from the community so far has been amazing.
These pyjamas are for children in Franklin who haven't got PJs to keep them warm now the nights are getting colder. Working for the Franklin Health Forum we have surveyed around the lower decile Franklin schools to gauge what the need is in the district, and so far have orders for pyjamas from four of the five schools we need to supply and one of the two pre-schools.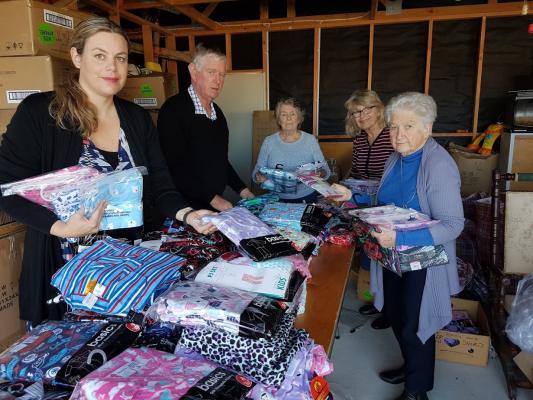 Parishioners have been sorting pyjamas already donated To supply the current list we need pyjamas for 478, with more needed for the other schools yet to give us numbers, All sizes are needed but mostly in the 2-year-olds and 4-to-12-year age-group and some small men's sizes for bigger kids.
Donations of new pyjamas can be left at the church or office.
Many thanks
Jan
Things our Parishioners Thank God For …
Family, Community, Friends, Homes, Schools
Clean Air, Clean Water, Freedom & Peace
Our Health, Doctors — Nurses, All who support us and care for us
Each New Day, Our Work and Play
Forever Young
Improving your strength and balance
As we age falls are a risk we face. Our Forever Young programme is lots of fun and designed to improve your strength, balance, flexibility and agility.
This programme is for those who can commit to a one-hour exercise class once a week for 10 weeks.
The programme caters for all levels of fitness and disability.
Week 1: You will have a simple assessment and learn about what to bring to class and be given your own handbook about the programme.
Week 10: We repeat the assessment to determine your percentage improvement.
Most of all this will be FUN! Not like any exercise class you've done before. In fact, we almost don't use the E word. Come join us!
The cost of the programme for the 10 weeks is $65. You will be asked to pay for the programme in week one.

If you have a medical condition, we may ask you to get a clearance from your GP to participate in the programme.
IF YOU WOULD LIKE TO LEARN MORE ABOUT THIS PROGRAMME join us for morning tea at 10am on Tuesday July 4.  Please let us know if you will be attending. Phone the Parish Office on 09 238 7228.
Health and Safety Policy
A copy of the Parish Health and Safety Policy along with the processes required for the implementation of the policy is currently being developed. When this is completed a copy will be on the shelf at the back of the church, published on our website or available from the parish office.
An evacuation plan is in each area for the church and complex.
Reid Anderson Hall Assembly area is the car park adjoining the hall unless the location of the emergency situation is on the south wall preventing evacuation on that side of the building. In this case the assembly area is on the road frontage in front of the church.
Nora Brown Hall Assembly area is on the road frontage in front of the church or on the vicarage lawn depending on the location of the emergency situation.
Other rooms in the complex Assembly area move to the vicarage lawn.
St Andrew's Church Assembly area is on the road frontage at the front of the church.
St Paul's Church Assembly area is on the road frontage at the front of the church.
First aid kits and accident reporting sheets are located:
1. Reid Anderson — In the cupboard over the small hand basin in the Kitchen.
2. Nora Brown — on the shelf above the microwave. Record sheets are next to the microwave.
3. Parish office — 2nd to top shelf on left side in the back room. The office is locked when unattended.
Forms are to be completed as soon as the accident has been dealt with. Treatment including resources that are used are to be recorded on the sheet.
Special Events in July
Sunday July 9, 2pm: Handel Quire in St Andrew's Church
Monday July 17: The Parish Op Shop celebrates its 20th birthday
Sunday July 30, 5.30pm: This Beautiful Fantastic, Pukekohe Cinemas