Vicar's Address
Easter is here!
Christ is Risen.
Alleluia, Alleluia
To me Lent has been quite special this year as we have had the opportunity to join with others in strengthening our relationship with God.
It is important we try to tell the story of Easter and what it means to us in our world today, where there is so much pain and hurt. It is through the death and resurrection of Christ that we have hope. It is unfortunate that this hope in the Risen Christ, which is there for all, is far from the reality in which so many people live. When I write of such hope it is not that hope for a happy and joy-filled life can be a reality for everyone — great though that would be. There are many for whom such hope is unrealistic when they live in a world of abuse or daily battles. Christ did not turn his back on the suffering and injustices in the world. He died because of his actions of loving, including, encouraging and healing.
It is important people know that through the grace of God and the death and resurrection of Christ our future is not determined by our actions of today or the past.
The worship on the Sunday before Lent set the tone and helped us to move into the season. We wrote on soap paper those things that we want to leave behind, and as we came forward to receive Communion, and in so doing be reminded of God's sacrificial love, we dropped these papers into a bowl of warm water and watched them dissolve away. So it is with our past wrongdoings.
Working further on our strengthening of our relationship with God, I was pleased we had a group of 12 who gathered for a quiet day early in Lent. It is so good to take the day to step aside and just to be and spend time with a greater awareness of God's presence.
Our small but dedicated worship planning team have worked hard providing more dramatic presentations of the scripture, reflective readings and variety in presenting intercessions. It is by working as a team that we all learn from each other and have the opportunity to share and grow. I have so much appreciated the assistance in providing us with the opportunity to experience such a deep, meaningful and significant season.
The visual displays created by Ann Rollinson in the meeting room are truly amazing. A visitor I showed the room to this week commented on how the atmosphere within the room was just so amazing and moving. I strongly recommend you all spend some quiet time in the meeting room and in the garden. It is not until you are in the quiet stillness that the impact really hits home. Many thanks Ann and also to those who helped set up the outdoor garden, especially the Pukekohe Garden Friends and Mitre 10 for their generous donation of plants.
Our AGM was held on the March 18 and I would encourage those of you who have not already done so to pick up a copy of the parish reports from church. There is a booklet of all the reports for groups and also copies of the draft parish reports as prepared for the Diocese's consolidated accounts. A draft copy of the Central Vestry Trust Board accounts was presented but because of the inclusion of the retirement village accounts these must undergo a higher level of audit. These will be presented to a special meeting once the audit is completed.
Happy Easter Season as we celebrate the risen Christ within each one of us
God's blessings to you all.
Jan
Our Journey to Easter
Opportunities for Reflection on the Meaning and Significance of Easter
St Andrew's Church, Pukekohe
Easter Garden and Indoor Displays
open 9am to 6pm daily until Sunday April 8
There are outdoor displays on the lawn in front of the house at 43 Queen St and an indoor display in the Meeting Room which is close to the parish office behind the church building.
Both of these displays are supported by booklets including some readings from our scriptures and some suggestions for your reflection.
The outside display also has a children's version of this booklet.
To gain the maximum value from these displays we do suggest you allow sufficient time to read and reflect on the visual displays.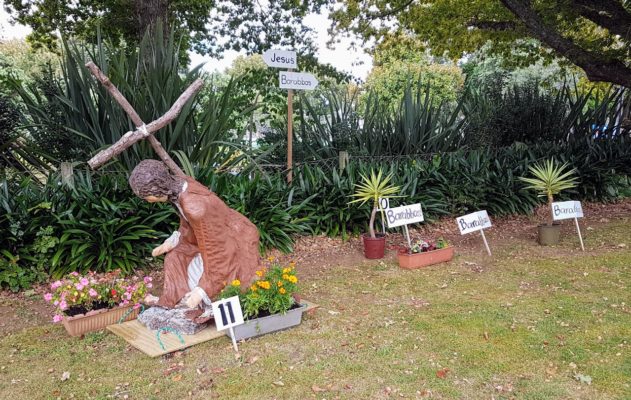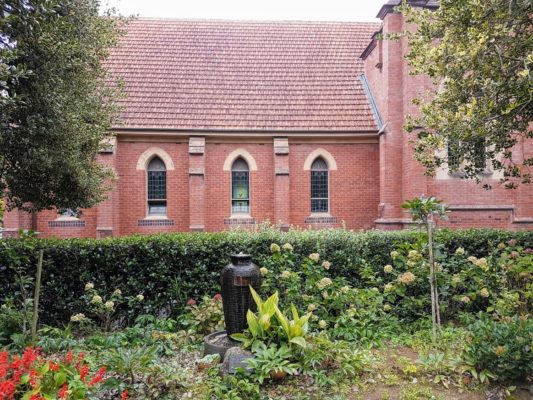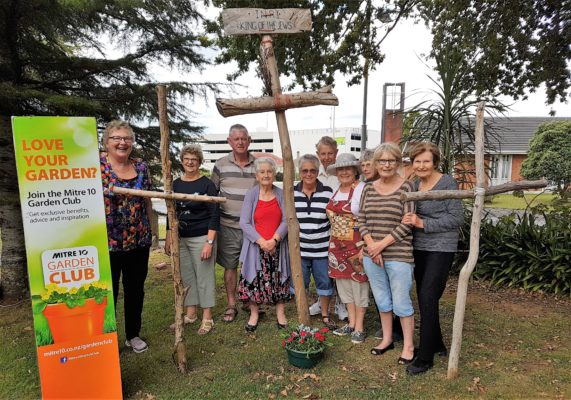 Preparing our Easter displays (from left): Glenis Kerr, Ann Rollinson, Bob Wallace, Jan Wallace, Judith Parke, Alistair Parke, Sheila Smith, Joy Browning, Leight Ohlin, Maria Fabrello.
Auckland Cathedral — Parnell
re.cognition
This is a station-based interactive art installation at Holy Trinity Cathedral in Auckland curated by Mark Pierson (Rhythms of Grace congregation at The Upper Room) and Sarah Park (Anglican Diocese of Auckland). It will run from Tuesday April 3 to Sunday April 8, from 6pm to 9pm. Entry by koha. re.cognition invites visitors to engage with the biblical narrative of Easter, by moving through 15 stations which encompass crucifixion, resurrection and ascension. Each station will employ different art media to present the story in a multi-sensory way.
Visitors will be invited to engage with the installations, and reflect on what the Easter story might mean for them. We envisage it will take visitors between 60 and 90 minutes to make their way through the installation, over which time they will walk the entire cathedral site. Please note: many of the stations that comprise re.cognition are positioned in low lighting or are accessed via stairs. We regret this means re.cognition is not accessible for wheelchairs or those or limited mobility. Holy Trinity Cathedral is on the corner of Parnell Rd and St Stephen's Ave, Parnell. There is a pay-and-display car park which is accessible via Brighton Rd.
Reminder: Lenten Appeal
The appeal in 2018 is supporting three projects.
Rwenzori Special Needs Foundation in Uganda
Serving the needs of vulnerable children with disabilities in a very poor
region of Uganda
Saviour Evangelical School in Jordan
Serving poor and vulnerable children from poor and marginalised communities in Jordan
Arab Episcopal School in Jordan
Serving blind and visually impaired children through education in Jordan.
Envelopes for this appeal can be found in the church foyer.
Our Indoor Easter Experience Display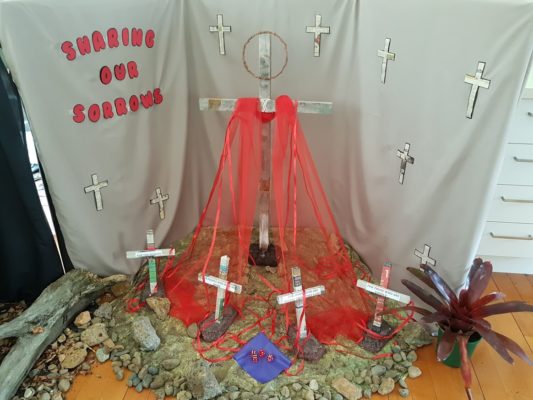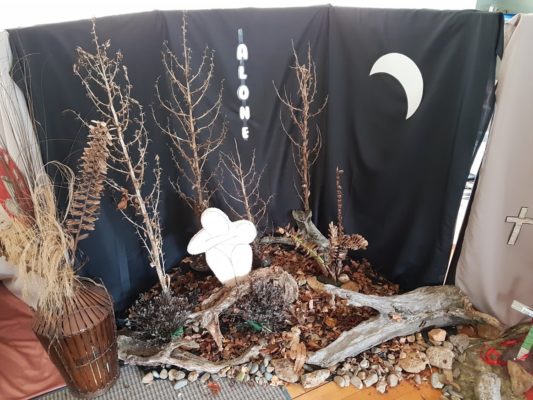 Worship
Holy Week and Easter — opportunities for worship at St Andrew's and St Paul's
Sunday March 25 — St Andrew's
Palm Sunday
8pm & 9.30am Eucharist (the 9.30 service will be a special service)7pm Taize Service at St Andrew's
Sunday March 25 — St Paul's
11.15am Eucharist
Thursday March 29 — St Andrew's
Maundy Thursday
6pm Seder Meal commemorating the Passover and foot/hand washing, Eucharist and Stripping of the Sanctuary
Friday March 30 — St Andrew's
Good Friday
9.30am Family Activity-based Service. Suitable for all ages
11am Reflective Good Friday Service
Sunday April 1 — St Andrew's
Easter Day Celebration
8am Easter Eucharist
9.30am Family Easter Eucharist
1pm Senior service in Nora Brown
7pm Easter Hymns & Readings with Franklin Community Choir
Sunday April 1 — St Paul's
11.30am Easter Eucharist
Rest Home Services
Palms Rest Home: 10.30am Tuesday April 3
Palms Hospital: 11am Tuesday April 10
Lakeside Rest Home: 10.30am Wednesday April 11
Pukekohe Hospital: 10.30am Wednesday April 18
Possum Bourne Village: 11am Tuesday April 24
Anyone who wishes is welcome to join us at these services
From the Parish Registers
Weddings
March 14: Yiu Ming Ng & Gabrielle Joanna Bryce
Bible Readings in April
April 1
First: Acts 10: 34-43
Gospel: John 20: 1-8
Theme: Love Comes to Life
Easter Sunday
April 8
First: Acts 4: 32-35
Gospel: John 20: 19-31
Theme: Love is a Response to Grace
2nd Sunday of Easter
April 15
First: Acts 3: 12-19
Gospel: Luke 24: 36b — 48
Theme: Love Means Showing Up
3rd Sunday of Easter
April 22
First: Acts 4: 5-12
Gospel: John 10: 11-18
Theme: Love in Truth and Action
4th Sunday of Easter
April 29
First: Acts 8: 26-40
Gospel: John 15: 1-8
Theme: Love Abides
5th Sunday of Easter
Seniors Eating Well
10am Tuesday April 24, St John's Anglican Church, Tuakau
A nutrition course for older people, workshops monthly over four consecutive months. Morning tea included. This practical course looks at issues of nutrition as we age, tips for shopping and cooking for one and making life in the kitchen easier. To get full value, it is recommended you are available to attend all four sessions. Includes food tasting!
Time: Tuesday's Feb 27, March 27, April 24, May 22, 10am — 12.30pm
Location: St Johns Anglican Church, cnr George St and Buckland Rd, Tuakau
The workshop is free, but a donation/koha appreciated.
Mothers' Union
Wednesday April 4, 10am. Meet in the Church
Guest is Rowena Mara, a parishioner who works for the Australian Women's Weekly
All Welcome
For Reflective Spiritual Growth
Join us in Church at 2pm on the 1st and 3rd Wednesday each month
Handel Consort & Quire — Concert
3pm, Sunday April 8
We are very fortunate to have this choir and orchestra come and perform for us again this year. Their first performance is Handel's Utrecht Te Deum and Jubilate. The ticket prices are very reasonable when you buy online or we will be selling these at that reduced price through the parish office.
Pre-purchase tickets from St Andrew's Church office
Adults $30 Seniors $25. At the door Adults $40 Seniors $35.
Combined Anglican and Catholic Contemplative Service
From Palm Sunday to Good Friday
7pm Sunday March 25
St Andrew's Anglican Church
You are welcome to come early and spend time in the "Journey to Easter Garden" on the Vicarage Lawn or visit the indoor display "Experience Easter" in the Meeting Room.
Both of these displays are open March 18 to April 8.
Sustainability
Sustainable Anglicans
Who has seen the St Andrew's food garden featured on the home page of the Auckland Diocese Anglican website (auckanglican.org.nz) at the moment? So pleased I am that this local Sustainable Anglicans initiative is getting a wider exposure and demonstrating that we at St Andrew's Pukekohe cherish our earth in practical ways. The pic shows Friends of the Communal Food Garden Rowena Maria, Lois Allen and Jocelyn Brody (L-R) preparing the new no-dig beds for spring planting.
Last week, we harvested the remaining tomatoes and beans and started putting the garden to bed for the winter. That involves planting a cover crop to protect the bare spoil over winter and to then give nutrients back to the soil in the spring
The garden is also a focus for our Grow Your Own Food course. Our third course starts on Wednesday April 4 (7pm — 8.30pm) in the Reid Anderson Hall. Over six weeks, attendees learn about the practical steps an organic gardener takes to establish a no-dig vegetable garden that gives and gives and gives.
Another practical sustainability initiative is planned for international Earth Day 2018. Following on from our Charcoal Fire activity last year, this year's event will also burn wood in a charcoal fire to make biochar.
When buried in the soil, that biochar sequesters atmospheric carbon away for a long, long time, making a significant contribution to reducing the drivers of global warming. If it sounds odd to you that having a fire can save the planet from global warming, then come and join us on Sunday April 22 at St Paul's, Buckland, and learn how you can help save our cherished Earth.
John Allen
021-463 686
Pastoral Care
Seasons for Growth — An after-school group held on Thursday for children who have experienced a significant loss or grief in their lives. Adult programme began on March 12, 7pm.
Space for you and baby — A group for first-time mums and their babies.
Oasis — This is the natural progression from Space. As the babies "graduate" at the age of 1 year they transfer through to the playgroups which have music, morning tea, free play and a story with a related craft. There is the time for mums to chat amongst themselves and to build relationships as many are new to Pukekohe. Drop in and see the children having fun.
Selwyn Group — For the older members of the community. Join in the exercises, chat over a cup of tea or coffee and then enjoy cards, Skip-bo, Bingo or other activities. It is good to see people getting out, mixing with others and on Tuesdays enjoying lunch together. This group runs every Tuesday and Thursday morning from 9.30am.
For further information on any of these groups please speak to Jan.
Weekly Events
Garden Education Session: 7pm Wednesdays
Sunday School: 9.30am Sundays (Children aged 3 years up)
Seasons: 4pm Thursday afternoons during term time
Oasis Music/Coffee Group: 9.30am Monday & Friday during term time
All pre-schoolers and caregivers welcome
Selwyn Group: 9.15am Tuesday & Thursday
Op Shop: 9am~12 noon Wednesday, Friday & Saturday