Vicar's Address
What difference will Lent make to your life this year?
Well, our year is well underway with most groups having already met by now. The Oasis children's group is being very well attended with parents grateful to have somewhere to take the children after the long summer holiday — and it has certainly been a beautiful summer, although many are now in need of rain for their gardens and their stock.
Lent is a little later this year and although in the quieter season after Christmas it felt as if we had plenty of time for preparation, we find now we are just 10 days from Ash Wednesday. This year we will be celebrating Shrove Tuesday on the Sunday before Lent begins. This we hope will mean more families will be able to join with us rather than resulting in a later night when we have just begun the school year.
During Lent we are encouraged to reflect on our lives. This may be how we spend our lives. How we share what we have. If we look at our time, where does God fit? How much of our time do we spend talking and listening to God or reflecting on God's word? How much time do we devote to our family and our loved ones? How do we relate to our neighbours and the needy in our community? How much time do we spend working and what is the cost of this on our relationships? And of course there are times when this is necessary. We need to remember that Christ recognised the need to take time out and we need to do likewise.
Often we treat Lent as a time to give something up. That is fine if it causes us to think about the sacrifices Christ made during his life and why he made these sacrifices. Often his life was made less comfortable as he stood up for people often neglected or rejected by others.
During this Lenten Season please consider picking up the Lenten challenges listed in the Messenger or consider joining one of the Lenten Study Groups. There is more information on these later in the Messenger.
As part of your reflections over Lent you may decide you would like to confirm your faith and commitment. Please speak to me if this is something you would like to be part of. We will be having a parish confirmation on Sunday 29 September. I will be having some discussions later in the year in preparation for this occasion. Please mark this date in your diary so as we can support members of our parish family wanting to make this affirmation.
May this Lent be a time of reflection, renewal, refreshment and opportunity for spiritual growth as you reflect on Christ's life and ministry as he journeyed towards the cross.
Blessings to you all.
Jan
Parish Roll
This year we are working to enhance our communications.
Part of this involves ensuring our parish roll is up to date, with email addresses and cellphone numbers added where applicable.
A link for people to do this will be sent in a couple of weeks, but in the meantime we would appreciate your checking the parish roll in the church foyer. If your name is missing please complete one of the slips.
We would also appreciate it if you check the roll for missing names or names that should be deleted.
Thank you
Jan
A Lenten Spiritual Challenge
During the first week of Lent try to spend some time remembering the ministry of Jesus that led up to his arrest and death on the cross. Some people give things up during Lent. Maybe this year we can try something different. Each week you will be invited to take up a challenge so that together we may remember Jesus' ministry.
Week 1 ~ Generosity
Your challenge is to do an act of generosity for someone.
Look for an opportunity to show generosity. Who knows what may come up.
– Buy a coffee / tea for someone behind you in the line in a coffee shop.
– Give an item of food to the food bank.
– Make a donation to a charity.
Week 2 ~ Gratitude
Your challenge is to express gratitude.
Make a point of saying thanks to someone you don't often thank in your life. It may be someone you see regularly, or it may be a stranger. Try to do this at least once a day. Each day make a list of three things for which you are grateful. It may be things you see in nature or things that happen throughout your day, or people you encounter. Try to make it different every day and be specific rather than friends and family.
Week 3 ~ Prayer
Your challenge is to pray for someone you struggle to relate to. It may be someone who has hurt or offended you at some time or someone you just don't see eye to eye with. Take some time every day to pray for that person. Maybe it is simply holding them in love and compassion.
Week 4 ~ Share your faith in some way
One way would be inviting someone to one of our Easter events.
This may be a matter of handing someone an invitation to the Maundy Thursday meal or one of the Easter services. Another way might be to tell someone you would like to pray for them in the coming week and ask if that is okay. You may be willing to give an invitation to a stranger.
There will be invitation cards listing services at the church.
Week 5 ~ Compassion
Your challenge is to reach out to someone who is isolated. Maybe it is that person you have been going to visit or phone or maybe even sending a note. It could be visiting a hospital or rest home and chatting to someone who doesn't have a visitor. You could drop off an Easter greeting card. We will have some ready for you at Church.
Week 6 ~ Sacrifice
Your challenge is to do something sacrificial. It may cost you a little time, going out of your way to do something — maybe doing a chore for someone, making something or giving something to someone in need.
Lenten Sharing Groups
During the season of Lent we will be holding some Lenten discussions.
These are opportunities to get to know others and sharing in issues around faith and our lives.
One of these groups will be held on a Sunday morning after the 8am service. Light breakfast will be available and it will be an opportunity to get to know a little better some of the people who attend the worship with you. Another group will be held during the day or evening depending on what people prefer, or if there are sufficient numbers we will have two groups. Please add your name to the list in the church foyer indicating times you would be available to attend.
Ash Wednesday Services
Wednesday March 6
10am at St Andrew's with communion
7pm Combined Service
St Patrick's Catholic Church, Seddon St
Pancake Party
Sunday March 3, 11.15am
Yummy foods ~ Fun and games. Please bring a filling to share and refreshments.
Pancakes will be provided so it is important that we have an indication of the number of people attending.
Please let Jan know numbers: Jan Wallace at jan.wallace@xtra.co.nz or phone 0274-521366 or the Parish office 09-2387228.
Parish Breakfast
Sunday March 31, 8.55am
Another of our scrumptious breakfasts where our 8am and 9.30 am congregations come together. Please come and enjoy good food and company. For catering purposes please add your name to the list in the Church foyer or let Noeline know in the Parish office if you would like to join us.
A Mosaic of Grace Retreat Day
Come and experience a day of prayer and exploration in this retreat day on Saturday March 9 at St Andrew's.
This day is led by the Rev Irene Brodie, chaplain at Selwyn Oaks Village in Papakura.
We will have time to reflect and to be creative in this time set apart to enjoy and develop our relationship with God.
A good introduction to the beginnings of Lent.
Please bring with you any special pens and pencils; felt pens or crayons, and any magazines you are willing to use for collages.
From the Children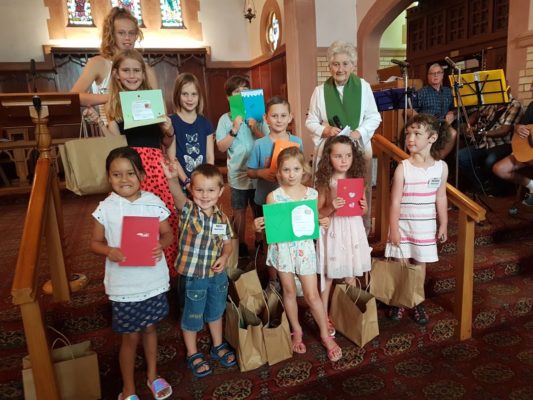 On February 17 we talked about blessings and how God wants us to share what we have to help other people who are in need.
The children packed bags with the ingredients to make vegetable soup. They made cards for the recipients and these will go with some of our food parcels.
Thank you to everyone who supports our food parcels by bringing along nonperishable items for them. While all items are welcome, at the moment we are short of tins of spaghetti, sweet corn, tomatoes and soup. We also need pasta sauce, rice and drinking chocolate or milo.
Blessings bring joy to our lives.
We are a blessing to others when we share the love and care of Christ with other people. While it is always good to receive love and kindness it is even more special when we share these blessings with people around us or who are in need. As we talked about the joy received in giving the children blew bubbles.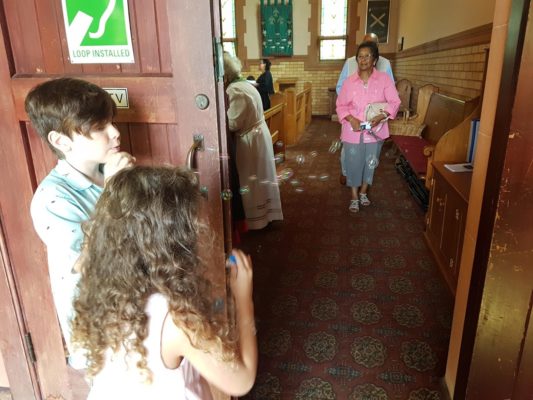 Here Vincent and Genevieve are blowing bubbles as the parishioners come out of church. We are now looking forward to our pancake party on Sunday March 3 before we enter the Lenten seasons. If you would be willing to help with our ministry with our children please talk with Jan.
In a few weeks we will begin a teaching session about communion for our children. Again, please speak to Jan if you have anyone you would like to attend.
Parish Annual Meeting
Sunday March 17, 11am, Nora Brown Hall
We are blessed with a Vestry that works well together in seeking to be an effective team in setting the direction of the parish and managing the finances and properties of the parish and Central Vestry Trust Board. We generally meet on the third Wednesday evening of the month at 7pm in the parish complex. Please consider joining us for the AGM and maybe consider becoming a member of Vestry. A full copy of the documents including the reports is available in the church foyer.
Draft Agenda
Opening Prayers
1. Apologies
2. Confirmation of
– Minutes of annual meeting held on March 18, 2018
– Minutes of special general meeting held on June 3, 2018
3. Parish Roll
4. Matters arising from minutes, not covered elsewhere
5. Appointment/Election of Officers
(a) People's warden
(b) Two lay Synod representatives (triennial election)
(c) Vestry
6. Presentation of Reports
(a) Vicar's Report
(b) Churchwardens' Report
(c) St Paul's, Buckland Report
(d) Mothers' Union Report
(e) Opportunity Shop Report
(f) Properties Report
(g) Retirement Village Report
(h) Any ministry area reports (to be tabled at meeting)
(i) Any other reports (to be tabled at meeting)
7. Finance Report
8. Pukekohe Central Vestry Trust Board
(a) Financial Report
(b) Appointment of Auditors
(c) Terrier of Properties
9. Any other business
10. Conclusion of meeting
Are You Able to Assist Us???
There are a range of tasks that would help us to be more effective as a Parish. After our planning meeting there may be a few additions to this list but in the meantime I am keen to find volunteers to:
1. Spend maybe up to a couple of hours a week assisting with administrative tasks
2. Assist with some computing, including data entry, which could be done at home
3. Assisting with Sunday School — we would like a roster with people helping out maybe one Sunday a month on a roster basis
4. To be part of a greeters' team for Sunday services
5. Pastoral visiting
6. Assist with home and/or rest home communions
7. Pray for people at home i.e. join the Prayer Chain. This is something that anyone of any age can be part of. This involves keeping information confidential
8. Assist on a roster for personal prayer at the end of services — involves listening and keeping information confidential
9. Sidespersons' roster
10. Flower arranging roster
11. Church cleaning roster
12. Sorting clothes and/or serving in the Op Shop
A list will be provided in the Church foyer to add your name for any of these ministries
If there are other ministries you would like to become involved with please talk to Jan.
March — Mark Your Calendar!
World Day of Prayer
Friday, March 1, 11am
St James Presbyterian Church, 30 West St, Pukekohe
'Come — Everything is Ready', a service prepared by World Day of Prayer Committee, Slovenia. Offerings will be used to support projects in Slovenia, South Sudan and New Zealand as well as to contribute towards local and international World Day of Prayer.
Shared lunch at 12pm in the Church Lounge.
Parish Pancake Party, Sunday March 3, 11.15am
Mothers' Union
Wednesday March 6
Meet in Church at 10am followed by meeting in Lounge. Guest speaker is Rev Irene Brodie. All welcome.
Parish Quiet Day
Saturday March 9
Pukekohe Christian School Gala
Saturday March 16, 8.30am — 1pm
82 Yates Rd, Pukekohe
Women's Fellowship Eucharist and Outing
Thursday March 21, 10am
Dementia Auckland Driving and Dementia Masterclass
Thursday March 21
An in-depth education session for carers, family members and health professionals.
Cost — Donation: carers/family gold coin | health professionals $5
Parish Breakfast
Sunday March 31, 8.55am
Sustainability
The St Andrew's communal food garden is a focal point for sustainable actions in the areas of food (locally grown, fresh organic food), waste (recycling kitchen and garden waste in the compost and worm farm), water (harvesting rain water from the garage roof) and, coming in 2019, energy, through a solar-powered water pump.
Alongside these benefits, our "Friends of the Food Garden" group meets one evening a week to maintain the food garden and sustain social links. Do think about joining our little group — we meet at 7.15pm for just one hour in the garden behind the vicarage.
The other activity running alongside the food garden is our twice-yearly "Grow Your Own Food" (GYOF) course. This 6-week evening course aims to introduce participants to easy-as organic food growing.
Our next GYOF course starts on Wednesday April 3. Please pass the flyer on to those you think may be interested.
Celebrating World Earth Day has been an annual event for us for two years now and the wee bonny and barbecue made the 2018 Charcoal Fire event at St Paul's Church, Buckland, a hit, with more than 30kg of atmospheric CO2 sequestered beneath three citrus trees that themselves will remove much more CO2 from the atmosphere over their lifetimes.
One other wee sustainability action: It struck me as incongruous that we are using plastic bags to accept donations to the parish food bank. So Joan has kindly donated some cloth shopping bags that the sewing group have made. You are welcome to take a cloth bag home to put your food donations into. If we run out of bags, just let me know and we'll get some more made up.
John Allen
Ph. 09-238 1357 | 021-463686
john@wjohnallen.nz | cherishedearth@auckanglican.org.nz
Grow Your Own Food
A practical workshop
For nutritious and healthy food grown sustainably, why not grow it yourself?
This course will introduce you to the basics of growing your own food: feeding the soil; selecting seasonal plants to grow; watering; protection from sun, wind and animals; pests, diseases and weeds; and creating your garden, all from an organics perspective.
Enrol now: Call 238 1357 and leave your name + number
Wednesday evenings from 7.15 to 8.30, starts April 3 for six weeks. $60 per household.
Here for Good: Project Home Ground
This is an initiative of the Auckland City Mission.
Its goal is to build a centre for the vulnerable people in Auckland.
If you would like to make a Lenten donation to this cause, there will be
more information available in Church.
Rest Homes
Palms Rest Home: 10.30am Tuesday March 5
Palms Hospital: 11am Tuesday March 12
Lakeside Rest Home: 10.30am Wednesday March 13
Pukekohe Hospital: 10.30am Wednesday March 20
Possum Bourne Village: 11am Tuesday March 26
Anyone who wishes is welcome to join us at these services.
Bible Readings in March
March 3
First: Exodus 34: 29-35 (Readers: 8am Graeme, 9.30am Brown)
Gospel: Luke 9: 28-36 (Graham, Brown)
Theme: Living in Glory
Transfiguration Sunday
March 10
First: Deuteronomy 26: 1-11 (8am Alistair)
Gospel Luke 4: 1-13 (8am Joan)
Theme: A Place of Justice and Grace
1st Sunday of Lent
March 17
First: Genesis 15: 1-12, 17-18 (8am Jan)
Gospel: Luke 13: 31-35 (8am Bruce)
Theme: Journey towards Trust
2nd Sunday of Lent
March 24
First: Isaiah 55: 1-9 (8am Sue)
Gospel: Luke 13: 1-9 (8am Paul)
Theme: Fed by the Glory
3rd Sunday of Lent
March 31
First: Joshua 5: 9-12 (8am John)
Gospel: Luke 15: 1-3, 11b-32 (8am Eve)
Theme: A Traitor for Grace
4th Sunday of Lent