EASTER GREETINGS TO YOU ALL
It seems no time since Christmas, and here we are preparing to celebrate Easter. Next Sunday is Palm Sunday, which leads us into Holy Week. This year it is great to have the Franklin Community Choir join with us on Easter Day. Because of this, we will have only one service, at 9.30am, so we can all enjoy them singing the Hallelujah Chorus and joining with us in our other hymns. The style of the service will be in the form of the 8am service and will be followed by a shared morning tea. I am looking forward to us joining together in our celebration of the Risen Christ. During the weeks after Easter, we hear of Jesus' presence with his disciples through to the ascension of the
risen Christ and the coming of the Holy Spirit at Pentecost.
We have had a very busy year to date, with nine baptisms and six funerals. The AGM last Sunday was attended by 22 parishioners. I have previously printed the reports in the Messenger, but these are quite long. If you want a copy, let the office know and one can be sent to you. We do have a large deficit in our budget, so we need to be careful in our spending and to prayerfully reflect on how to increase our income.
Inflation is affecting all of us and many people are enduring hard times, with many more turning to us for help. At the moment, Plunket is the group reaching out the most frequently. As a result of this increase, the Pukekohe Community Action Trust is exploring putting a garage-sized shed behind the current Op Shop storeroom. We are very fortunate to be well connected in the community and work closely with Plunket, Bellyful, Well Women and Victim Support. It is an opportunity for us to be truly reaching out to the people of our community.
Last Saturday, a sustainability event, the Little Green Expo, was held at the church. It is good for us to be seen caring for our environment. We printed copies of Keith's columns from the Messenger, and these were available for attendees. They were very well received. Well done, Keith. We do appreciate your efforts.
From this week the beautifully displayed Journey to Easter reflection room will be open to the public. Ann has again done a beautiful job of this. Thank you, Ann.
We are so lucky to have so many talented people being willing to share their gifts with us. The outdoor garden will be open from Wednesday of next week. Spending time in these spaces can really help us to feel God's presence. I hope you will find time to experience the benefit of these two displays.
We have a new library cupboard to install on Wesley St. We are hoping people will enjoy taking a book from the cupboard and putting one back in its place. With high school students needing to demonstrate an ability in both literacy and numeracy before they reach any level of qualification, our need to encourage reading with our young people becomes even more important.
Easter Blessings to you all.
Jan
PALM SUNDAY SERVICES
2nd April, 8am and 9.30am
MAUNDY THURSDAY
6th April 6pm
Passover meal, hand-washing and Eucharist
GOOD FRIDAY
7th April, 11am
Reflective service
TRADITIONAL EASTER DAY CELEBRATION SERVICE
Sunday 9th April, 9.30am
(Note only one service) with Franklin Community Choir singing The Halleluja Chorus
ANZAC DAY
Tuesday 25th April
Church open for reflection and thanksgiving for the people who have served our country
SUNDAY READINGS FOR APRIL
2nd
9th
16th First reading: Acts 2: 12a, 22-32; Gospel: John 20: 19-31
23rd Jeremiah 23: 1-6; Luke 24: 13-35
30th Acts 2: 42-47; John 10: 1-10
REST HOMES AND HOSPITAL SERVICES FOR APRIL
Singers welcome to help
Tuesday 4th: 10.30am Palms Rest Home
Thursday 6th: 10.30am Franklin Village
Tuesday 11th: 11am Palms Hospital
Tuesday 25th: 11am Possum Bourne Village
REGULAR SERVICES
Every Sunday NOTE: EXCEPT EASTER DAY
8am and 9.30am at St Andrew's Pukekohe
2nd and 4th Sunday of the month
11.15am St Paul's Buckland
1st Sunday of the month
11.15am Nora Brown Hall behind St Andrew's Church.
Weekdays 10am at St Andrew's
1st Wednesday of the month – 3rd Thursday of the month
GARAGE SALE
Saturday 15th April, 8am-11.30am
Setting up for the fair will begin on Tuesday 11th April and run through to Friday 14th April. If you have any large goods to deliver or items that you would like to be collected, we would appreciate you leaving it until that week to help us with storage and to also save double handling.
HELP IS ALSO NEEDED ON THE DAY FROM 7.30am
CONTRIBUTIONS
For those wishing to make contributions to the parish, the account numbers are:
• Parish general expenses including automatic payments: 06-0405-0012157-00
• Restoration of the church: 06-0405-0078359-01
• Pukekohe Community Action (for community out-reach in our community): 12-3023-0071016-00
• Make sure you put your name in the reference field and email Jan at jan.wallace@xtra.co.nz so we can send you a tax receipt. Many thanks in advance for your generosity.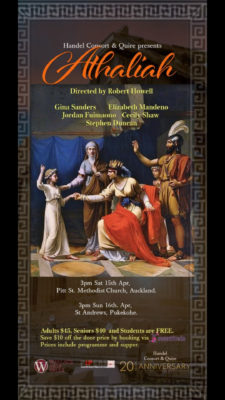 BOOK THROUGH THE OFFICE AND SAVE $10 OFF THE TICKET PRICE
SUSTAINABILITY
School Enviro Groups
By Keith Gardner
There are more than 1490 Enviro Schools in New Zealand, involving more than 35,000 students and teachers. Enviro Schools is an environmental action-based programme where young people are empowered to design and lead sustainability projects in their schools and neighbourhoods. Most schools have an Enviro Schools care code to take care of the environment. They look after people and places and things using their school values. Schools can be awarded a bronze, silver or gold level for their environmental work.
They begin by describing the school environment. What are the issues identified by pupils? What knowledge, understanding and skills will students need in order to engage with environmental issues?
They do whole school recycling, reducing waste and reusing it. Many have developed orchards and vege gardens and use the produce. They make special insect gardens and plant areas for birds to visit. Many have developed a native tree trail to learn about trees.
They involve themselves in community clean-ups. Enviro School groups investigate how to reduce water and power use in the school. They often look after a local stream or wetland area, testing water quality and planting suitable
plants on the stream banks.
Many Franklin Schools have a sorting and recycling system for their rubbish and have classroom clean-up areas. They participate in the Trees for Survival programme, growing and planting native trees in the local community. Most schools have a worm farm and compost food scraps. This is often put back into their gardens via worm tea.
Pupils enjoy being part of the group when it comes to activities. Many of these youngsters develop positive attitudes towards the environment which come to the fore in their adult years.
Health and Safety Policy
A DEFIBRILLATOR HAS BEEN INSTALLED BY THE OFFICE DOOR
A copy of the Parish Health and Safety Policy and the processes required for its implementation is on the shelf at the back of the church, published on our website or available from the parish office.
An evacuation plan is in each area for the church and complex.
Reid Anderson Hall: Assembly area is the car park behind the hall unless the emergency is on the south wall preventing evacuation on that side of the building. In this case the assembly area is by the road in front of the church.
Nora Brown Hall: Assembly area is by the road in front of the church or on the vicarage lawn depending on the location of the emergency.
Other rooms in the complex: Assembly area moved to the vicarage lawn.
St Andrew's Church: Assembly area is by the road (Wesley St) at the front of the church.
St Paul's Church: Assembly area is by the road at the front of the church.
First aid kits and accident reporting sheets are located:
1. Reid Anderson – In the cupboard over the small hand basin, by the back door in the kitchen.
2. Nora Brown – on the shelf above the microwave. Record sheets are next to the microwave.
3. Parish office – 2nd to top shelf on left side in the back room.
The office is locked when unattended.
Forms are to be completed as soon as the accident has been dealt with.
Treatment, including resources used, to be recorded on the sheet.
DK CONCRETE – Floors, Driveways, Footpaths, Patios etc. Daniel Kircher, Ph 021 066 8356,  kirchaz@hotmail.com
HALLIWELL'S of Pukekohe – Stockists of Fine Quality Leather Shoes, 81 King St Pukekohe, Ph 2387686
PUKEKOHE TRAVEL – Locally owned and operated since 1978. Contact Eve Murphy, 89 King St Pukekohe, Ph 09-237 0013, info@pukekohe-travel.co.nz
WE COVER BUILDINGS WITH THE BEST COLORSTEEL – IN CORRUGATED OR STYLINE PROFILES – "STEEL YOURSELF FOR THE 21ST CENTURY" – Franklin Long Roofing Ltd, Franklin Rd Pukekohe, Ph 2389249 or After Hours 2380027
PARISH DIRECTORY
Vicar: The Rev'd Jan Wallace 238-7723 Home
238-7228 Office 0274-521-366 Mob
Email. jan.wallace@xtra.co.nz
Vestry
Chairperson Rev'd Jan Wallace
Vestry secretary Karen Stevens
Wardens Pauline Brown 021-1823703 Richard Anderson
Synod Reps Vicky Mee
Vestry members Renton Brown, Richard Gibbons, Helen Halliwell, Julie Perelini, Glenis Kerr
Buckland Reps Jim Moore, Vicky Mee
Parish Ministry Team
Parish Wardens Pauline Brown and Richard Anderson
Family Gael Crimmins Communications Cecily Daroux
Community Vicky Mee Sustainability Pauline Brown & Glenis Kerr
Pastoral Care Rev Jan Wallace, Rev Merlene Walker
Administration
Treasurer VACANT
Central Vestry Trust Board Treasurer Ros Phillips
Parish Recorder Keith Gardner (Parish Envelope Scheme)
Parish Administrator Judith Tucker
Office Hours Monday to Thursday | 9am ~ 2pm
Address 31 – 37 Queen St, PO Box 338, Pukekohe
Phone 09-238-7228
Email address pukekoheanglicanchurch@xtra.co.nz
Op Shop 9am ~ 12 noon on Wednesdays, Fridays and Saturdays
PASTORAL CARE
Community Programmes at Pukekohe Anglican Church
Space for you and baby
For the first year of baby's life. A number of groups are run each week to keep the age range of the babies within about 3 months. Term time only.
The Selwyn Foundation
For the older members of the community. A hot lunch is available for a small charge. Transport can also be arranged. Tuesday 9.30am
Oasis Music & Coffee group
A natural progression from Space for preschool children. Mon & Fri 9.15am ~11am. Term time only
St Andrew's Seniors fellowship group
For older members of the community – exercise, morning tea and cards. 9.15 am Thursdays
Seasons
An after-school group at 4pm on Thursdays for children who have experienced a significant loss or grief in their lives. An adult programme runs at various times. Phone 0274521366 for information
DATES FOR YOUR DIARY
EASTER SERVICES
PLEASE NOTE: A new date for the senior parishioners' Easter Luncheon is to be advised.
2 April: Palm Sunday
6 April: Maundy Thursday, 6pm – Passover meal and foot washing
7 April: Good Friday
11am – Reflective Service
3pm – Join with St Patrick's congregation in carrying of the cross to the top of Pukekohe Hill
8 April Holy Saturday – Service of Light at St Patrick's Catholic Church, Pukekohe. (Time to be advised)
9 April Easter Day: Note: Only one service at Pukekohe 9.30am, with Franklin Community Choir singing the Halleluja Chorus. Followed by shared morning tea
EASTER DISPLAYS
Until 16th April: Visit our Easter Garden and Journey to Easter displays indoors and out
GARAGE SALE
Saturday 15 April, 8am-11am. Set up from Tuesday 11 April to Friday 14 April. Please help with moving sale items from the garage to the Reid Anderson Hall if you are able. Help is also needed on the day 7.30am-11am and then with cleaning up.
Sunday, April 16, 3pm: Handel Consort & Quire Concert perform Athaliah at St Andrew's. Director Robert Howell, singers Gina Sanders, Elizabeth Mandeno, Jordan Fuimaono, Cecily Shaw, Stephen Duncan. Adults $45, Seniors $40, Students FREE. Save $10 off the door price by booking via Eventfinda or the parish office. Prices include programme and supper.