RESPONDING TO GOD'S GIFT TO US OF THE HOLY SPIRIT
For me, Pentecost Sunday is a very significant occasion in the life of our church. The Holy Spirit has always been part of our trinitarian God. There are many different names – God the Father, Son and Giver of Life, or God the Creator, Redeemer and Giver of Life and many others. But Pentecost is a celebration of the pouring out of the Holy Spirit that Christ told his disciples he would send. This same Holy Spirit is poured out upon people today.
Have you ever said, or been tempted to say, "I couldn't do that as I don't have the ability," and yet had a strong feeling that you should do it? Are we willing to give it a go? It is not easy to step out and try something new. Often, if we take time to stop, consider and pray about what it is that God is calling us to do, we find it is possible.
It is through Jesus' life on Earth that we have a model of how we should live our lives. The disciples were commissioned by Christ to take the Word of God to the ends of the Earth. With the unsettled times, the disciples dispersed to many countries, taking the word of God with them and sharing stories of Christ's life and actions.
It is through the gift of the Holy Spirit within us that we can share these messages in our world today.
The diagram at the top of this newsletter is the Healthy Church model illustrating the aspects of church life. Before Covid, we had several ministry teams that exercised roles and ministries in the parish. With the restrictions imposed nationally in seeking to protect others and ourselves, most of these teams ceased to exist.
Now, at Pentecost, I am inviting you to reflect on where God is calling you to be and what you are called to do.
Recently I met with Lynne Trenwith, a member of the review team reflecting on our parish review and where we are at. Previous ministry teams involved:
Worship, pastoral care, ministry to the elderly, families, children, communication, mission, sustainability, and prayer chain.
What is it we need to be and do to be relevant in our changing and challenged world?
I was encouraged by the words of King Charles III in his coronation prayer.
The King knelt before the Altar and said:
God of compassion and mercy, whose Son was sent not to be served but to serve, give grace that I may find in thy service perfect freedom and, in that freedom, knowledge of thy truth. Grant that I may be a blessing to all thy children, of every faith and belief, that together we may discover the ways of gentleness and be led into the paths of peace, through Jesus Christ our Lord. Amen.
Blessings to you all and may we join King Charles in this prayer.
Jan
THE SEASON OF PENTECOST
SUNDAY READINGS FOR JUNE 2023
4 June: First reading Genesis 1: 1 – 2: 4a; Gospel: Matthew 28: 16-20
11 June: Genesis 12: 1-9; Matthew 9: 9-13, 18-26
18 June: Genesis 18: 1-15; Matthew 9: 35–10: 8
25 June: Genesis 21: 8-21; Matthew 10: 24-39
REST HOMES HOSPITAL AND MIDWEEK SERVICES
Singers welcome to help
Thursday 1 June: 10.30am Franklin Village
Tuesday 6 June: 10.30am Palms Rest Home
Wednesday 7 June: 10am St Andrew's
Tuesday 13 June: 11am Palms Hospital
Thursday 15 June: 10am St Andrew's
Tuesday 27 June: 11am Possum Bourne Village
REGULAR SERVICES
Every Sunday
8am and 9.30am at St Andrew's Pukekohe
2nd and 4th Sunday of the month
11.15am St Paul's Buckland
1st Sunday of the month
11.15am Nora Brown Hall behind St Andrew's Church.
Weekdays 10am at St Andrew's
1st Wednesday of the month – 3rd Thursday of the month
FROM VESTRY
At this month's meeting, Vestry decided to consider our previous structure of ministry teams, under a section of the healthy church model. This month we have chosen Shaping Community. We are seeking suggestions of any work group that may be helpful in this area, who may be interested in being involved and what aspects they could gather to explore. Currently, I am working on a background document on Pukekohe Community Action Charitable Trust, how it has evolved and its relationship to the parish. Hopefully, from this, a greater understanding will come of how the Parish and PCA support each other in serving our community. A memorandum of understanding of how the parish and PCA relate is currently being developed.
Matthew 25:35-36
For I was hungry and you gave me something to eat, I was thirsty and you gave me something to drink, I was a stranger and you invited me in, I needed clothes and you clothed me, I was sick and you looked after me, I was in prison and you came to visit me.
PROPERTY REPORT Prepared 18 May 2023
Arch Replacement
Work has continued, with the 3D modelling completed and being used to create the moulds for panel production. Work on the final design of the steel core has also started, ready for fabrication and galvanising.
The architects have liaised with Liquidstone and are monitoring progress – they certify claims from the manufacturers before they are submitted to us for payment. Compared with the Gantt Project Chart, progress is a little ahead of schedule at this stage.
The return of the old concrete pieces to us is in progress. (See the photos below.)
There is no further update on final costs at this stage.
Church Seismic Strengthening
Update: On hold until funding is secured.
G. Richard Gibbons
PARTS OF THE ARCH RETURN
These pieces of the arch are to be cleaned and placed in the garden. They are part of the history of the parish.
At this stage, it looks like progress is on schedule for a blessing of the Peace Memorial Arch on 11 November 2023. Bishop Ross has this date in his diary so let's hope it actually happens this time. Any creative suggestions on how to mark this occasion are most welcome.
More information in August but please mark the date in your diary.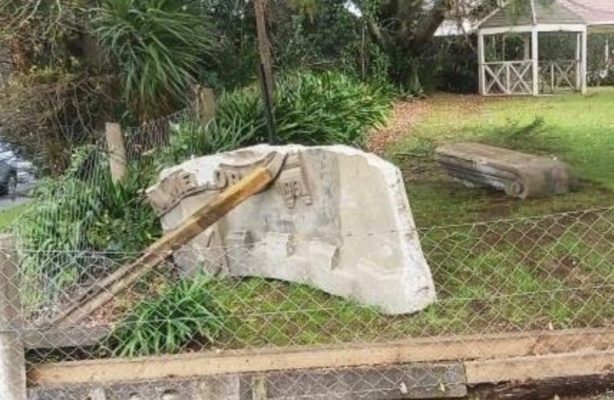 The top of the arch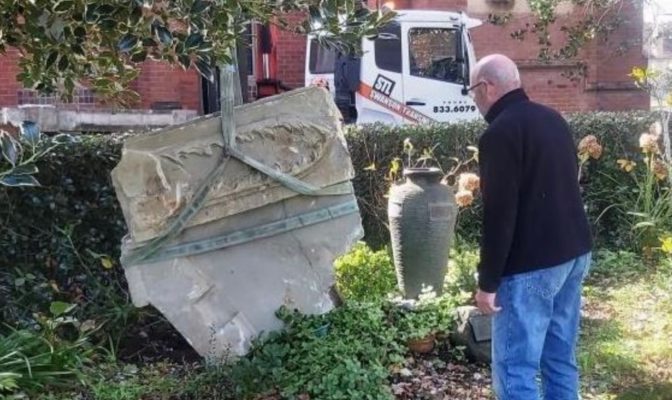 One of the sides of the arch
TREES
During Cyclone Gabrielle one of the large branches of the English oak trees on the Queen St road frontage broke off. We are fortunate that with the winds, the branch swung around and wedged in the branches. The tree is decaying and needs significant pruning to minimise the risk of more branches falling. We are applying to remove a considerable amount of the tree but it is protected. There are small native trees growing in this area so as these develop our beautiful tree boundary will continue.
SUSTAINABILITY
COCKROACHES
By Keith Gardner
Cockroaches are hated, despised and misunderstood. They might look creepy but most cockroaches are harmless and part of nature's world.
There are 15 indigenous species in New Zealand and 4500 species worldwide. The only place they do not live is Antarctica.
Cockroaches belong to an incredibly old order of insects which began around 300 million years ago. In the Carboniferous period, cockroaches dominated the insect world because it was warm and wet, and forests flourished. In those days they ate decaying wood and leaves, a similar menu to today's cockroaches.
The attitude towards cockroaches is to exterminate them but the cockroaches that live in our houses are not the native forest ones. Native cockroaches are small and are found under loose bark. Most of the species favour dark and damp habitats.
If they are found anywhere around the home, it would be in a firewood pile. They eat all sorts of organic material. Like other cockroaches they lay eggs or give birth to live young, a process called ovoviviparity. They go through the stages of egg, nymph and adult.
Three introduced species are "pests" in NZ. They are the German cockroach, American cockroach and the Gisborne cockroach.
The Gisborne Cockroach came from Australia and first arrived in Gisborne in the 1960s although it was also found in Auckland about the same time. It probably came into the country on logging ships. It is quite harmless and lives outside in wood piles. It does not carry disease but because of its size, it is scary.
The German cockroach came from Asia and is now the most common cockroach on Earth. It has a flat look about it which enables it to squeeze under cupboards and doors. It is an omnivore and a scavenger and will eat almost anything organic. It is fast, with a recorded speed of 5.4km/h compared with a human running at 3.30km/h.
The American cockroach came from Africa to America, probably on slave ships. Both American and German cockroaches can carry diseases and transfer them to food, a bit like a fly does by climbing over food. Cockroaches have a sweet tooth.
So, we can admire forest cockroaches who never come inside but play an important part in the recycling that supports our native forests and wildlife.
They can live up to 10 years and are often forgotten about – like a lot of our forest insects.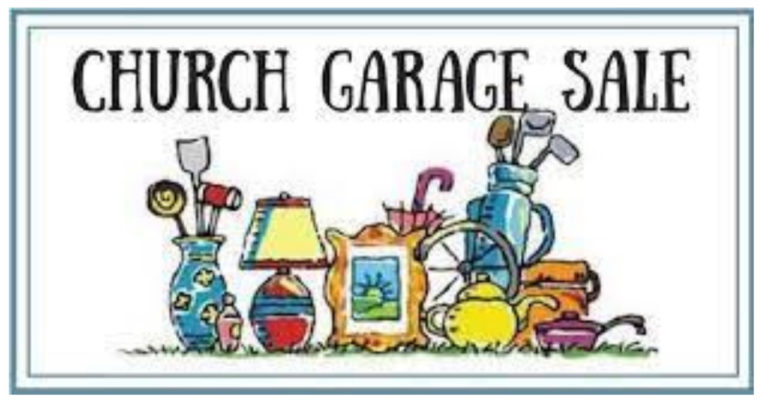 GARAGE SALE, Saturday 15 July
Set-up from Tuesday 11 July to Friday 14 July. Please help with moving sale items from the garage to the Reid Anderson Hall if you are able.
Help is also needed on the day from 7.30am-11am, and for the cleaning up.
HANDEL CONSORT AND QUIRE
Magnificent Motets and Madrigals
3pm, Sunday 9 July
St Andrew's Anglican Church, Pukekohe
Ticket details to come
PJs PLEASE
It's that time of year when we collect pyjamas (or money to buy them) to distribute to schools which have children in need of warmth this coming winter. If you can help us, it would be MOST appreciated. Only new pyjamas, please. PJs can be dropped off at: PCA (43 Queen St, Pukekohe); Pukekohe Travel (89 King St); Top Notch (28 King St); Pukekohe Library (12 Massey Ave); New World Pukekohe (17 Paerata Rd); Yakety Yak Cafe (159 King St); Tuakau Library (72 George St, Tuakau); Waiuku Library; Columbus Cafe (Pukekohe Mitre 10 Mega); Warehouse Pukekohe; Wecks ITM Patumahoe; Pakn'Save Pukekohe.
If you'd prefer to make a donation to enable us to buy PJs, please use our PCA Charitable Trust account, 12-3023-0071016-00. Many thanks from Pukekohe Community Action!
OUR LITTLE LIBRARY
Many thanks to Real World Living for this great initiative on the verge of the Wesley St frontage of St Andrew's.
We at the Pukekohe Anglican Church and our wider community are very grateful and privileged to have had this library box made for us. It will help to provide books for both children and adults and will also encourage reading.
If you would like to borrow a book to read for yourself or for a child, please feel free. When you have finished it, you can keep it, return it or pass it on to someone else. If you would like to donate one or more books, you are welcome to add them to the library or if you have several books, please drop them at the church office or leave them by the office door.
Our library was built by one of the attendees at Real World Living. Bill Fitzgerald painted it for us, and Renton Brown installed it. Thank you all.
So who are Real World Living? From their website:
Disability services & support organisation
We are a Disability Support Service provider of information, navigation, planning, training, and support for people who have physical and/or cognitive challenges and diverse levels of living and working abilities, using a holistic and whole-of-life approach and based in Auckland.
Their Vision
People who have impairments are not defined or disadvantaged by disability. They have access to the opportunities, support and means to reach for the stars, transcend challenges and barriers, live their own life to the fullest and contribute to the prosperity of our world, in the same way as anyone else.
How come we received one of these libraries?
Robyn Hoffman from Real World Living became involved in Community Networks Franklin. Judith Tucker, our parish administrator, is secretary/treasurer of CNF and I am chairwoman. This organisation helps us to connect with the community, to refer between organisations and to support each other through our networks.
Jan
PUKEKOHE ANGLICAN AND PUKEKOHE COMMUNITY ACTION
Times change and people involved in organisations also change so I think it is time to give some thought to how we have developed, to enhance people's understanding of how our relationship was formed. I am grateful that through PCA we are able to meet many needs in the community that we could not do on our own. The Anglican parish has always been involved in serving the community but when I became Vicar I was a little frustrated with our lack of engagement with the wider community. In the mid-1990s Val Sutton and myself were on Vestry and we were concerned by the fact that we were committed to our overseas mission contributions by automatic payment but we were always struggling for funds for local missions, although there were many needs in our own community. Vestry agreed to the establishment of a parish Op Shop, with all the income going to local needs.
Those involved in this project were authorised to decide where the money was to be directed. This is a parish ministry and community outreach. Nowadays, with increased space being needed and increased costs, funds are donated to the parish on the days we have garage sales and fairs.
Donations from the Op Shop are parish donations for local missions. An adult study group, which children came to with their parents, was in place. By 2008 we had begun a full-blown play group – gold coin donation if attendees were able – the Seasons grief and loss programme had started and Space for first-time parents and babies was beginning. It was clear to me the church was not going to be able to continue to sustain what was a quickly developing community ministry without some help. I started applying for grants and we were awarded 56 hours of time to help us to get established as they liked our application. We had the choice of how to use these hours and opted for assistance with capacity building. I approached the Bishop about setting up a trust under the umbrella of the church. He advised me to set up an independent trust as the church already had a large number of trusts. I was pleased with this as it freed us to set up a community trust with a range of people that aligned with the teaching of Christ but also the values held by many community-minded people seeking to help others.
So, yes, PCA grew out of St Andrew's, but now is enriched by having the support of many community-minded people seeking to help people in need regardless of their background. It also gives people the opportunity to fulfil their desire to serve the community. Yes, many are Anglicans and many are from other denominations, faiths and also people with no religious affiliation, but they have a willing and loving nature and a sense of social responsibility so contribute hugely to our PCA family. Through PCA, grants are received that pay rent for the use of buildings and also for the resources that they use.
Health and Safety Policy
A DEFIBRILLATOR HAS BEEN INSTALLED BY THE OFFICE DOOR
A copy of the Parish Health and Safety Policy and the processes required for its implementation is on the shelf at the back of the church, published on our website or available from the parish office.
An evacuation plan is in each area for the church and complex.
Reid Anderson Hall: Assembly area is the car park behind the hall unless the emergency is on the south wall preventing evacuation on that side of the building. In this case the assembly area is by the road in front of the church.
Nora Brown Hall: Assembly area is by the road in front of the church or on the vicarage lawn depending on the location of the emergency.
Other rooms in the complex: Assembly area moved to the vicarage lawn.
St Andrew's Church: Assembly area is by the road (Wesley St) at the front of the church.
St Paul's Church: Assembly area is by the road at the front of the church.
First aid kits and accident reporting sheets are located:
1. Reid Anderson – In the cupboard over the small hand basin, by the back door in the kitchen.
2. Nora Brown – on the shelf above the microwave. Record sheets are next to the microwave.
3. Parish office – 2nd to top shelf on left side in the back room.
The office is locked when unattended.
Forms are to be completed as soon as the accident has been dealt with.
Treatment, including resources used, to be recorded on the sheet.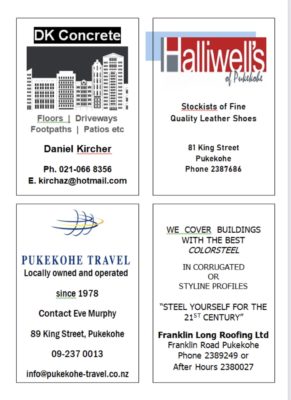 PARISH DIRECTORY
Vicar: The Rev'd Jan Wallace 238-7723 Home
238-7228 Office 0274-521-366 Mob
Email. jan.wallace@xtra.co.nz
Vestry
Chairperson Rev Jan Wallace
Vestry secretary Karen Stevens
Wardens Pauline Brown 021-1823703 Richard Anderson
Synod Reps Vicky Mee, Helen Halliwell
Vestry members Renton Brown, Richard Gibbons, Helen Halliwell, Julie Perelini, Glenis Kerr, Vicky Mee
Buckland Reps Jim Moore
Parish Ministry Team
Parish Wardens Pauline Brown, Richard Anderson
Family Gael Crimmins Communications Cecily Daroux, Judith Tucker
Community needs response Jan Wallace, Vicky Mee
Sustainability Pauline Brown, Vicky Mee, Keith Gardner 
Pastoral Care Rev Jan Wallace, Rev Merlene Walker
Administration
Central Vestry Trust Board Treasurer Ros Phillips
Parish Recorder Keith Gardner (Parish Envelope Scheme)
Parish Administrator Judith Tucker
Office Hours Monday to Thursday | 9am ~ 2pm
Address 31 – 37 Queen St, PO Box 338, Pukekohe
Phone 09-238-7228
Email address pukekoheanglicanchurch@xtra.co.nz
Op Shop 9am – 12 noon on Wednesdays, Fridays and Saturdays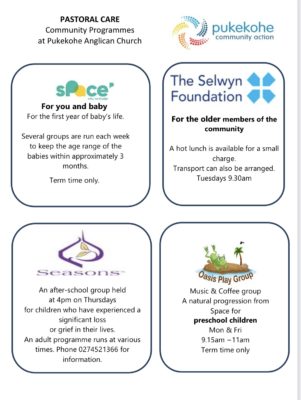 DATES FOR YOUR DIARY
Wednesday 7 June, 10am: Parish Communion Service followed by Mothers' Union social group gathering.
Thursday 15 June, 10am: Parish Communion Service. Fellowship Group meets at the church at 10.30am for cafe outings.
HANDEL CONSORT AND QUIRE
Sunday 9 July, 3pm. The choir performs Magnificent Motets and Madrigals at St Andrew's. Ticket details to come.
GARAGE SALE
Saturday 15 July, 8am-11am. Set-up from Tuesday 11 July to Friday 14 July. Please help with moving sale items from the garage to the Reid Anderson Hall if you are able. Help is also needed on the day from 7.30am – 11am and then with cleaning up.