THE SEASON OF LENT
It is amazing to think that we are only at the beginning of March. Usually, I feel that the months fly by but
somehow this year so much seems to have already taken place. I guess it is a little like "we've been here
before" with lockdowns occurring in our season of Lent.
Our theme for Lent was "seeing with the eyes of the heart". We have at this stage managed only one session for each of our study groups.
This year our groups are led by the Rev'd Tricia Carter, for the Tuesday 10am session, and Rev'd John Carter, for the 7.30pm session. You are still welcome to join either of these groups. They are both covering the same material so it is possible to attend different groups if you have appointments.
Our signs outside the church are somewhat different this year because our aim was to invite people in to see what Easter is all about. We are still hoping this will be able to happen. Yes, there is a lot of publicity and push around the secular view of Easter – Easter eggs, bunnies and holidays – but from our Christian view that is not what it is all about.
What about Jesus? Yes, there have been somewhat cryptic comments added to the signs each week and the signpost within the church also has a different message each week as we move the signpost closer to
the chancel.
In case you have missed seeing them the signs have been
• Why do we have pancakes? – we advertise the pancake party but do we take the time to explain what this is about? The reason is we are getting rid of the rich and expensive food items from our homes before we begin our time of fasting which is the tradition for Lent. A time of giving up something we value as we seek to spend more time in reflecting on God and Jesus' journey to the cross on Good Friday.
• Ash Wed, Feb 17th – What about these ashes? Where do they come from and what is their significance? We do not waste what has been blessed. Each year on Palm Sunday we bless palm crosses which we have with us for the rest of the year. We bring our palm crosses and burn these when we are together at our pancake party and use these to make the ashes. These ashes symbolize both death and repentance. During this period, we show repentance and mourning for our sins, because we believe Christ died standing against oppression, and injustice. He died seeking, peace, joy acceptance and compassion for all.
• Lent 1, Feb 21st – Jesus in the wilderness. Jesus went into the desert and there he experienced many temptations. We experience temptations in our lives, too, and often these temptations can lead to addictions. This may be work, technology, acquiring more and more luxuries and "stuff" that we will rarely put to good use. Some
addictions lead to substance abuse, alcohol, drugs, gambling, and violence. The underlying question is: "Where can we look for love and ease the pain?" In Easter we have the answer to that question.
• Lent 2, Feb 28th – Our human nature calls us into relationship with others. Who do we make close friendships with, how do they influence our lives? Most people have people they admire, idolise or seek to follow. Who are these people in in our lives and where does God fit into that picture for you? If the answer is no then why not
follow someone new?
• Lent 3, March 7th – A new opportunity? Our reading sees Jesus entering the temple and overturning the tables of the money lenders and tax collectors and clearing away items that distract our focus from God and contribute to an unjust society. Some of these activities were taking away from people in need. Lent is a good time to reflect on the stumbling blocks that get in our way, clearing things away that are preventing us from seeing the new opportunities we have in Christ.
• Lent 4, March 13th – Jesus didn't come into the world to condemn the world but to save it. That is our calling too. We are not here to judge and to condemn but to love and to serve, to offer support for those in need by showing the same love that God shows to each of us and asks us to share with others. Our hope is that they also will become "Hooked on" to the love of God.
• Lent 5, March 20th – SEE WITH EYES OF YOUR HEART. Covid willing there will be plenty to come and see and plenty to invite others to come and see. We have planned to have the opening and blessing of both our outdoor and indoor Easter displays at 10am on Saturday March 20. Our setting up of these has been delayed with the lockdown but we will remain hopeful. These displays offer people the opportunity to spend time in quiet and reflection as we focus on the events of the last weeks of Jesus' life.
The displays remain open from 9am to 5pm for a week after Easter and people have the opportunity to take their time, to be still and reflect. Please do try to spend time in these spaces and to bring other people in to see with their own eyes the true story of Easter.
• Lent 6, March 27th – Join the parade. This is the opportunity for you to join us in worship on the lawn, if it is fine, as we share in Jesus' journey to Jerusalem and the cross in music, drama and story.
• Maundy Thursday, April 1st – We will forgo our Seder Meal this year due to challenges of Covid-19 but we will have our reflective memorial service of hand/foot washing and Jesus' last supper with the disciples at 7pm in St Andrew's.
Even when we are not able to physically join together for worship during this season, I hope you will take time to reflect on our weekly themes, and Jesus' journey to the cross.
We are praying that we will be able to worship together safely in Holy Week and Easter this year.
Blessings to you all.
Jan
WORSHIP IN UNCERTAIN TIMES
Every Sunday our services are available on Zoom.
We will continue this regardless of the Covid-19 pandemic situation.
I have now set up a recurring link for our services.
Join Zoom Meeting
https://us02web.zoom.us/j/81361290712?pwd=R2sxaWM4QlQ4dmpNc3hpRnkvRW44UT09
Meeting ID: 813 6129 0712 Passcode: 724325
For copies of the service sheet please email jan.wallace@xtra.co.nz by Friday afternoon specifying 8am or 9.30am service. We are hoping to get these available by link but we are not there yet.
During lockdown there will be one Zoom service at 9.30am. We will return to services in church as soon as we are allowed. I expect to hold a service in church on 7th March if allowed.
____________________________
QUIET DAY
20th March
Please register with the parish office so we can send you the material before the day in case we are in lockdown, in which case we will make the day available on Zoom.
______________________
LENTEN STUDIES
Tuesdays at 10am and Thursday 7.30pm
You are welcome to collect resources from the office to go through on your own.
If we have an extended lockdown we will go online for those who are able.
LENTEN PRACTICES DURING CONGREGATIONAL WORSHIP
During the period of Lent there are some changes in our worship.
Lent is a Holy time when we are called to a time of preparation and self-examination.
During the Sunday services, particularly, the focus should be on the opportunity for each of us to keep a Holy Lent.
The Liturgical colour during this time is Purple. Purple is used as a colour of repentance. It was used historically to mark those who were set apart, most noticeably kings or leaders. Purple was chosen for only the finest moments because of the great cost of the dye and the cloth. Liturgically we use purple at the two great times of expectation and preparation, Lent and Advent.
The Gloria is NOT used during Lent. Instead, the focus is on repentance and forgiveness. The great song of the church is 'put away' until the celebration of the resurrection.
Flowers are not present during this period. The bareness of the sanctuary is a reminder of the need to be stripped of all the extra trappings that stand between us and the simple truth of our faith.
Music chosen during this time is also reflective of the need for preparation and of the promises of the faithfulness of God. The use of Alleluia (you would be surprised how many times this appears in songs) is also discouraged.
Baptismal Preparation traditionally occurred during Lent. This was a time for new Christians to spend in prayer and confession in order to celebrate the service of Baptism on Easter Day. In the early church, baptisms happened only once a year, on the eve of Easter Day, at the Service of Light.
Lenten Disciplines are common practice, becoming almost a cultural issue along with New Year's resolutions. The act of a Lenten discipline, though, is to do something which enhances our relationship with God. Lent is a time to be focused on more prayer, Bible reading or acts of charity. It is not about making us feel good, but about celebrating the great gift of God's love which we desire to share with others.
Palm Sunday occurs a week before Easter. This is an opportunity to invite active participation in the recreation of the triumphant entry into Jerusalem. The same voices that cry 'Hosanna' cry 'crucify him' days later. The use of the
Gospel as a dramatised work might be considered for this Sunday.
While these practices can seem a bit arbitrary, the reality is that they do assist us in preparing a worshipping congregation for the wonder and glory of celebrating the passion and resurrection of Christ.
May we all take seriously the privilege of leading God's people through this Lent.
Tricia Carter
OPPORTUNITIES FOR WORSHIP
Sunday Worship Times
St Andrew's, Pukekohe
Each Sunday 8am & 9.30am Holy Communion
1st Sunday 11.15am Holy Communion (Nora Brown Hall)
St Paul's, Buckland
2nd & 4th Sundays 11.15am Holy Communion
SUNDAY READINGS
March 7th: 1 Corinthians 1: 18 – 25; John 2: 13 – 22
March 14th: Psalm 107: 1 – 3, 17 – 22; John 3: 14 – 21
March 21st: Hebrews 5: 5 – 10; John 12: 20 – 33
March 28th: Psalm 118: 1,2, 19 – 29; Mark 11: 1-11
REST HOME AND HOSPITAL SERVICES
Tuesday March 2nd: 10.30am Palms Rest Home
Thursday March 4th: 10.30am Franklin Village
Sunday March 7th: 11.15am Nora Brown Hall, St Andrew's
Tuesday March 9th: 11am Palms Hospital
Wednesday 10th: 10.30am Lakeside
Tuesday 23rd 11am: Possum Bourne Village
Tuesday 30th 11am: Possum Bourne Village
EASTER DISPLAYS – INDOOR AND OUTDOOR (Covid dependent)
We hope to have both our indoor and outdoor displays available for you to spend quiet time in these spaces reflecting on the last days of Jesus' life. Open 9am – 5pm from 20th March to 11th April.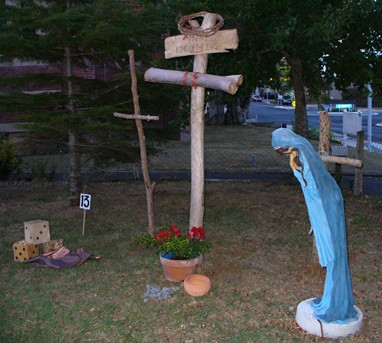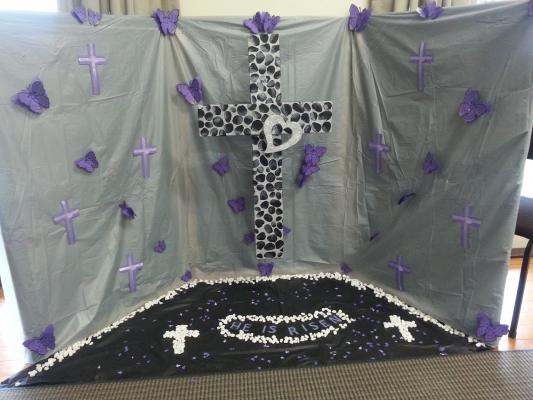 MEMORIALS IN OUR GARDEN
Many people have made wonderful contributions to our church and our community. We have memorials to a few of these people in our garden:
Helen Russell, John Allen, Alistair Parke, Philip Meyer
Garden Seats: Noeline Phillips, John Allen, Alistair Parke
Our plan: To add part of the peace memorial arch when this is moved.
SUSTAINABILITY
Thanks to our compost we had several large pumpkins arrive our garden unexpectedly, and they were most welcome. These have now been transformed into soup for us to share with those in need, be it after time in hospital, a time of stress or other need. From 1 pumpkin to 14 tables.
Thank you to our gardeners and our chefs.
PARISH ACTIVITIES IN CHANGING TIMES
Op Shop in Level 2
The Op Shop will open on Wednesdays, Fridays and Saturdays from 9am to noon in the Nora Brown Hall.
Selwyn in Level 1
The Selwyn group gets together on Tuesdays and Thursdays from 9am to noon in the Reid Anderson Hall.
Mothers' Union
The Mothers' Union meets on Wednesday 7th April, with a service in the church at 10am followed by morning tea in the Parish Lounge.
Women's Fellowship
Watch the weekly service sheet for notification of the fellowship's gathering on Monday 18th March in church if level 2, followed by morning tea in the parish lounge or if level 1 visit to a cafe.
Regular activities involving children will resume in level 2.
SPACE Level 2 or lower, otherwise on Zoom
A programme offering support for first-time parents/caregivers and babies in their first year of development. Come along and meet other new parents in the Franklin area. If you are able to assist with this group for about three hours a week please let Jan know. For enquiries email pukekohecommunityaction@xtra.co.nz
Seasons Level 2
An after-school group held at 4pm on Thursdays for children who have experienced a significant loss or grief in their lives. We also hope to run an adult grief group during the term. If you would like to know more email seasonsfranklin@xtra.co.nz or pukekohecommunityaction@xtra.co.nz
Oasis Level 2
Playgroup for preschool children and parents/caregivers. Mondays and Fridays 9.30am in the Reid Anderson Hall.
~~~~~~~~~~~~~~~
JOHN RONALDSON MEMORIAL RECITAL, FEATURING ORGANIST MICHAEL BELL
Postponed, please watch for further notice in the weekly service sheet.
A plaque in memory of John will be blessed at the beginning of the service.
ALL WELCOME.
~~~~~~~~~~~~~
FOOD STORAGE
We still have a high demand for food parcels and a food storage shed will hopefully arrive on Thursday, 18th March. Assistance needed on a Wednesday afternoon from 1pm. Please add your name to the list in the church foyer if you are able to help.
HELP NEEDED
Many aspects of church life would be enhanced by some more volunteers. Training is provided where needed.
Please also suggest other areas of need that you identify.
These include assistance with:
Welcoming people as they arrive at church.
Prayer chain co-ordination and prayers
Sidespeople
Op Shop
Church cleaning
Food store
Readers
Grounds maintenance
Leaders of intercessions
Morning tea roster
Lawn mowing
Odd jobs
Flower arranging
Garage sale co-ordination
Fair co-ordination
General tidiness of complex
Visiting
Assisting at Selwyn
There is a copy of this list in the foyer. Please indicate your willingness to be involved or email me please. Also needed are volunteers with Pukekohe Community Action programmes, Seasons (supporting people who have grief and loss), working with mums and babies or our preschool group. Training is provided and for some roles there are
external training programmes.
PYJAMAS PLEASE
It is that time of year again. Our local lower-decile schools are again identifying the number of children in their schools who are at high risk of chest infections over the winter months. With the help of the community, we are again trying to provide each of these children with a pair of new winter pyjamas. Any help is appreciated. Thank you.
HEALTH AND SAFETY POLICY
THERE IS A DEFIBRILLATOR INSTALLED BY THE OFFICE DOOR
A copy of the Parish Health and Safety Policy, along with the processes required for the implementation of the policy, is available on the shelf at the back of the church, published on our website or available from the
parish office.
An evacuation plan is in each area for the church and complex.
Reid Anderson Hall: Assembly area is the car park behind the hall unless the emergency situation is on the south wall preventing evacuation on that side of the building. In this case, the assembly area is by the road in front of the church.
Nora Brown Hall: Assembly area is by the road in front of the church or on the vicarage lawn depending on the location of the emergency.
Other rooms in the complex: Assembly area move to the vicarage lawn.
St Andrew's Church: Assembly area is by the road at the front of the church.
St Paul's Church: Assembly area is by the road at the front of the church.
First aid kits and accident reporting sheets are located:
1. Reid Anderson – In the cupboard over the small hand basin, by the back door in the kitchen.
2. Nora Brown – on the shelf above the microwave. Record sheets are next to the microwave.
3. Parish office – 2nd to top shelf on the left side in the back room.
The office is locked when unattended.
Forms are to be completed as soon as the accident has been dealt with.
Treatment including resources that are used are to be recorded on the sheet.
PARISH DIRECTORY
Vicar: The Rev'd Jan Wallace 238-7723 Home
238-7228 Office 0274-521-366 Mob
Email. jan.wallace@xtra.co.nz
Vestry
Chairperson Jan Wallace
Treasurer and acting Vestry secretary Karen Stevens
Wardens Pauline Brown 021-1823703 Glenis Kerr 238-5136
Synod Rep Vicky Mee
Vestry members Jocelyn Brodie, Renton Brown, Richard Gibbons, Helen Halliwell, Julie Perelini, Philip Watson
Buckland Reps Jim Moore, Vicky Mee
Parish Ministry Team
Vestry Wardens Pauline Brown and Glenis Kerr
Family Gael Crimmins Communications Cecily Daroux
Community Vicky Mee Sustainability Pauline Brown
Worship Rev Jan Wallace, Glenis Kerr, Rev David Walker, Merlene Walker, Judith Parke, Irene Brodie, Rev Tricia Carter, Rev John Carter
Pastoral Care Jan Wallace, Merlene Walker
Administration
Treasurer Karen Stevens
Central Vestry Trust Board Treasurer Ros Phillips
Parish Recorder Keith Gardner (Parish Envelope Scheme)
Parish Administrator Leonie Menzies
Office Hours Monday to Friday | 9.30am ~ 12.30pm
Address 31 – 37 Queen St, PO Box 338, Pukekohe
Phone 09-238-7228
Email address pukekoheanglicanchurch@xtra.co.nz
Op Shop 9am ~ 12 noon on Wednesdays, Fridays and Saturdays