BELIEVE IT OR NOT!!!
Here we are in the Season of Easter. Yes, we have journeyed through Holy week, Maundy Thursday, Good Friday and the celebration of Christ's resurrection on Easter day. For many, that is the end of Easter, the greatest Christian
celebration of the year. But for those who believe, Easter carries on as we reflect on the events that followed the resurrection through to Ascension Day and then the birthday of the church at Pentecost.
The Easter celebrations are one of the greatest challenges for us in helping people to understand the presence of God in our world today. So how do we help people to understand?
A British psychiatrist did an experiment to find out whether people who believe in the reality of Monday blues are more likely to feel bad on Mondays.
He divided his volunteers into three groups. He gave one group a report that said Monday blues are real. He gave a second group a report that denied their existence. The third group received nothing to read. He found that the first group was far more likely to rate Monday as the worst day in the week. The psychiatrist concluded that how you expect to feel affects how you do feel. What you believe is crucial! Belief affects not only what you expect and feel, but what you think and do and become. Beliefs are the grid we use to interpret life. Abridged from the Chicago
Tribune.
How do we feel after hearing the Easter message? Does it make us feel loved, accepted and blessed by God? Can we see the many blessings we have in our lives and recognise and empathise in a meaningful way with the issues others are facing at this time when there are so many challenges?
Many people believe what a terrible time they have had over the past couple of years – and there is no denying this is true. We only need to watch the news to see this. Our calling at Easter is to reach out with love and compassion to all people as God stretched out his arms for each of us, regardless of our beliefs.
The only way we will convince people that they are loved and accepted is by showing them that this is so and that this may help them to believe.
Easter blessings to all.
Jan
A huge thank you to everyone who assisted with any of the Easter services. Thank you too to those who helped with the wonderful displays and who have also assisted others over the Easter season. I have had many people comment that these contributions have helped them.
Please continue to pray for the people of Ukraine and surrounding countries, and all countries where they do not live in peace. Again, there is so much information being fed to these people that is not true.
STATEMENT OF FAITH
Becoming church – being bold in faith
We proclaim: God has not finished with the world.
We believe: God loves the world and longs for it to be reborn.
In the good news of resurrection: We will work with God.
We proclaim: God has not turned a back on the hungry.
We believe: God longs for fields of wheat to be shared among us all.
In the good news of resurrection: We will share with God.
We proclaim: God has not finished with peace.
We believe: God longs for peacemakers to rise and make peace once more.
In the good news of resurrection: We will be peacemakers with God.
We proclaim: God has not left the homeless without shelter.
We believe: God longs for all to be gathered in and welcome.
In the good news of resurrection: We will welcome the stranger with God.
We proclaim: God has not forgotten the poor.
We believe: God longs for the rich and the poor to live more equally.
In the good news of resurrection: We will change things with God.
We proclaim: God has not completed the task.
We believe: God longs for the reign of love to be born.
In the good news of resurrection: We will be kingdom builders with God.
WE NEED YOUR HELP PLEASE
Garage sale.
Set-up from Monday April 25 – Friday April 29
Please help with transferring the sale items from the garage
to the Reid Anderson Hall if you are able.
Help is also needed on the day from 7.30am to 11am and then to clean up.
IMPORTANT NOTICE
SUNDAY MAY 1
CONFIRMATION SERVICE
OUR BISHOP ROSS BAY
will be celebrating
ONLY 1 SERVICE – 9.30 am
Services on other Sundays are at the usual times.
8am and 9.30am at St Andrew's, and the 15th and 29th at Buckland.
SUNDAY READINGS FOR MAY 2022
1st TO BE ADVISED
8th First Reading: Acts 9: 36-43; Gospel: John 10: 22-30
15th Acts 11: 1-8; John 13: 31-35
22nd Acts 16: 9-15; John 14: 23-29
29th Acts 16: 16-34; John 17: 20-26
REST HOMES AND HOSPITAL SERVICES
to be confirmed – Please see the weekly newsletter
Tuesday 3rd 10.30am Palms rest home
Wednesday 4th 10.30am Mothers' Union Confirmed
Thursday 5th 10.30am Franklin Village
Tuesday 11th 11am Palms Hospital
Wednesday 12th 10.30am Lakeside
Thursday 20th 10.30am Fellowship Confirmed
Tuesday 25th 11am Possum Bourne Village
Thursday 27th 10am Church cleaning
LAWN MOWING THIS MONTH (April)
Renton Brown
Thank you Renton!
ST ANDREW'S RESTORATION FUNDRAISING DINNER
at the Pukekohe Town Hall now scheduled for November 2022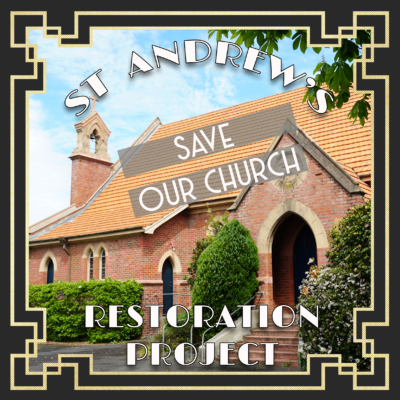 If it's not the memorial arch, it's earthquakes. St Andrew's Anglican Church is facing a couple of monumental tasks.
First, we need to find $1 million-plus to earthquake-proof our distinctive redbrick Art Deco church building.
At the same time, we need to raise funds to help to rebuild the peace memorial arch knocked over in a freak accident in 2020. Most of those costs are covered by insurance but the rise in prices since the accident means there is likely to be a substantial shortfall.
We're starting our fundraising with a special launch event at the church on Saturday May 7. It begins at 12.30pm and includes:
• A display of old photo albums relating to life in the church and community, in the Reid Anderson Lounge in the church complex from 12.30pm.
• At 1pm an organ recital in the church by Jono Dunlop, now completing his PhD in music.
• At 1.30pm Bishop John Paterson, retired Archbishop of Aotearoa New Zealand and Polynesia who spent his younger years in Pukekohe, will speak about the church's significance to our community.
• Richard Gibbons, engineer and project manager, will explain the drawings and plans to earthquake-proof St Andrew's. He will also present plans on the arch project in answer to that frequently asked question: "What are you doing about the broken arch?"
• A silent auction of some wonderful photographs, kindly contributed by Images Photography Club.
• A scrumptious high tea for all to enjoy.
The arch was dedicated as a peace memorial back in 1921. So it hadn't quite made it to its 100th birthday when it was accidentally demolished in 2020.
The arch predated the laying of the foundation stone for the church, also dedicated as a peace memorial, by 10 years.
Unfortunately, St Andrew's church building does not reach today's earthquake standards and needs to be restored or demolished.
We have chosen to try to restore and retain St Andrew's as an historic building in our community. We know this will be expensive, but we want to do our part to keep one of Pukekohe's landmarks.
Do come along and hear about our plans, see the drawings that have been prepared and ask your questions.
Tickets are $25 and are available from:
• Pukekohe Travel
• Halliwell's Shoes
• The parish office Monday to Thursday, 9am – 2pm
• Phone Graham Russell 021 874 924, Jan Wallace 027 452 1366 or the parish office 09 238 7728.
PYJAMA DRIVE
"What do we know?"
Increasing numbers of families in our community are
*struggling to make ends meet
*requesting support to feed their families
*living in homes that are cold and/or damp
extreme weather conditions are unpredictable so we do not know when our nights are going to get colder and just how cold they will be.
This year more pairs of NEW pyjamas will be needed to provide for local children in our low decile schools. These
children will be identified by the senior administrators in their schools, or help will go to children whose family is seeking assistance with food.
we really would appreciate your support as we seek to enhance the lives of our at-risk children.
We would really be grateful for your help if you can support this initiative.
THE LITTLE GREEN EXPO
Sustainability Made Simple – Saturday May 14, 10am – 3pm, Pukekohe Anglican Church complex and grounds, corner Queen St and Wesley St
Presented by Community Networks Franklin — Weaving strong communities
Be part of Franklin's first sustainable lifestyle expo. show our local community what can be achieved in the garden, home or workplace with water, waste, food, clothes, electricity and more. It's also a chance to tell them what your organisation is doing to look after the environment and live and work sustainably.
Workshops, displays, presentations and stalls. For more information call Jan or Judith on 09 238 7228
Proudly supported by Auckland Council, Electrix and Waiuku Zero Waste
SUSTAINABILITY
WORMS
By Keith Gardner
Charles Darwin claimed the earthworm was one of the most important animals in the history of the world. Worms break down organic matter and improve soil drainage. Native species are mostly confined to forests.
An earthworm is an invertebrate – that means it's an animal with no backbone. It moves by tiny bristles on its body.
If a worm is cut in half, both halves usually die. Sometimes the front half will grow a small back end.
Earthworms are very sensitive to vibrations. They can even feel birds' footsteps. Special cells in their skin can detect light. An earthworm breathes oxygen through its thin moist skin. If rain fills up airspaces in the soil, the worm
must come to the surface to breathe.
The sun's heat and ultraviolet rays damage an earthworm's skin. Most worms that come out in the daytime will die.
Earthworms are hermaphrodites, which means they are both male and female.
Worms lay their eggs inside a cocoon and these hatch into tiny worms.
The longest earthworm came from South Africa. It was found in 1967 – it was a giant specimen measuring 6.7m in length.
TIGERWORMS
These are the worms used in a worm farm. Known as composting worms, tiger worms have alternating red and yellow bands along their bodies. They can eat their body weight in food each day.
Unit 6 is now vacant and we invite any expressions of interest. If you know anyone who may be interested, please
pass on Jan's details.
BUILDING MATTERS
We are now awaiting a revised pricing schedule for the reconstruction of the memorial arch and the finalising of the contract with the construction company. Like many things, this has unfortunately slowed as the architect and her family all caught Covid.
Faculty (approval by the diocese): This has now been received by Jan.
Church Seismic Strengthening:
Following the congregational meeting held in association with the AGM, the action below has been taken. The current focus is to develop a contribution to "total cost" application for a funding grant supported by documentation.
1) The ongoing increases in material and labour prices, and the changes to the works to improve the appearance will also affect the cost. We expect to have an estimate of the costs by May. This will cover the actual structural works only and there are several substantive items to allow for in addition.
2) There will be further professional fees and council costs as the project moves forward. The architects will be doing the bulk of the work. They have been asked to provide a fees estimate to cover all of the costs, these include the following:
A) Resource consent application, including the work already completed, presented in the following documents;
• Concept drawings necessary to illustrate the structural and repair works and their effect on the heritage-listed building.
• Concept structural design and specification provided by the Engineers Lough Associates (80% complete)
• Specialist hazardous materials survey – asbestos, etc.
• Building condition report – this will capture the repairs, services, replacements etc that the building needs, and that can be usefully done while the seismic work is in progress
• Outline schedule of works and specification
• Heritage impact assessment
• Consultant planner such as planning focus (Alex Von Son) to make the submission with the required assessment of effects
B) Building consent application would follow, including the documents above, with the design developed as follows;
• Detailed structural design, calculations and specification provided by the engineers Lough Associates
• Detailed architectural schedule of works and specification
• Detailed architectural design drawings necessary to illustrate the installation and repair works
• Detailed engineering design of other services, i.e. electrical, fire, security – depending on final agreed scope
C) Project management including procurement processes, cost management and contract administration once the building work is under way. Post-contract handover and as-built record documentation.
This estimate is due in a couple of weeks' time
3) Current electrical work has been reviewed.
Some of the wiring is original and much of it does not meet current codes and requirements.
In addition, we will be required to install emergency exit lighting as part of council approval.
After a full inspection we have been given an indicative estimate of $90,000 for replacement/upgrading.
4) Heating & Ventilation
The heritage architects have indicated that we need to improve the ventilation to ensure the fabric does not deteriorate further. This also affects how best to heat the building in the future, noting the pews will be moved and the existing heaters disconnected to allow access for the reinforcement works. To obtain an indicative cost/proposal for this work, a written guestimate will be sought. Improved ventilation will enable us to better cope with the global temperature changes we are experiencing.
5) Other Costs
Once the estimates are received, an indication of all the excluded item costs from appropriate suppliers will be sought.
A faculty for this work is being prepared.
Thank you, Richard, for your extensive work and for keeping us up to date.
Health and Safety Policy
A DEFIBRILLATOR HAS BEEN INSTALLED BY THE OFFICE DOOR
A copy of the Parish Health and Safety Policy and the processes required for its implementation is on the shelf at the back of the church, published on our website or available from the parish office.
An evacuation plan is in each area for the church and complex.
Reid Anderson Hall: Assembly area is the car park behind the hall unless the emergency is on the south wall
preventing evacuation on that side of the building. In this case the assembly area is by the road in front of the church.
Nora Brown Hall: Assembly area is by the road in front of the church or on the vicarage lawn depending on the location of the emergency.
Other rooms in the complex: Assembly area moved to the vicarage lawn.
St Andrew's Church: Assembly area is by the road (Wesley St) at the front of the church.
St Paul's Church: Assembly area is by the road at the front of the church.
First aid kits and accident reporting sheets are located:
1. Reid Anderson – In the cupboard over the small hand basin, by the back door in the kitchen.
2. Nora Brown – on the shelf above the microwave. Record sheets are next to the microwave.
3. Parish office – 2nd to top shelf on left side in the back room.
The office is locked when unattended.
Forms are to be completed as soon as the accident has been dealt with.
Treatment, including resources used, to be recorded on the sheet.
DK CONCRETE – Floors, Driveways, Footpaths, Patios etc. Daniel Kircher, Ph 021 066 8356,  kirchaz@hotmail.com
HALLIWELL'S of Pukekohe – Stockists of Fine Quality Leather Shoes, 81 King St Pukekohe, Ph 2387686
PUKEKOHE TRAVEL – Locally owned and operated since 1978. Contact Eve Murphy, 89 King St Pukekohe, Ph 09-237 0013, info@pukekohe-travel.co.nz
WE COVER BUILDINGS WITH THE BEST COLORSTEEL – IN CORRUGATED OR STYLINE PROFILES – "STEEL YOURSELF FOR THE 21ST CENTURY" – Franklin Long Roofing Ltd, Franklin Rd Pukekohe, Ph 2389249 or After Hours 2380027
PARISH DIRECTORY
Vicar: The Rev'd Jan Wallace 238-7723 Home 238-7228 Office 0274-521-366 Mob
Email. jan.wallace@xtra.co.nz
Vestry
Chairperson Jan Wallace
Treasurer and acting Vestry secretary Karen Stevens
Wardens Pauline Brown Glenis Kerr
Synod Reps Vicky Mee
Vestry members Jocelyn Brodie, Renton Brown, Richard Gibbons, Richard Anderson, Maggie Gibson, Helen Halliwell, Julie Perelini, Philip Watson
Buckland Reps Jim Moore, Vicky Mee
Parish Ministry Team
Vestry Wardens Pauline Brown and Glenis Kerr Family Gael Crimmins Communications Cecily Daroux
Community Vicky Mee Sustainability Pauline Brown Worship Rev Jan Wallace, Ann Rollinson, Glenis Kerr.
Pastoral Care Rev Jan Wallace, Rev Merlene Walker
Administration
Treasurer Karen Stevens
Central Vestry Trust Board Treasurer Ros Phillips
Parish Recorder Keith Gardner (Parish Envelope Scheme)
Parish Administrator Judith Tucker
Office Hours Monday to Thursday, 9am ~ 2pm
Address 31 – 37 Queen St, PO Box 338, Pukekohe
Phone 09-238-7228
Email address pukekoheanglicanchurch@xtra.co.nz
Op Shop 9am ~ 12 noon on Wednesdays, Fridays and Saturdays
PASTORAL CARE
Community Programmes at Pukekohe Anglican Church
Space for you and baby
For the first year of baby's life. A number of groups are run each week to keep the age range of the babies within about 3 months. Term time only.
The Selwyn Foundation
For the older members of the community. A hot lunch is available for a small charge. Transport can also be arranged. Tuesday 9.30am
Oasis Music & Coffee group
A natural progression from Space for preschool children. Mon & Fri 9.15am ~11am. Term time only
St Andrew's Seniors fellowship group
For older members of the community – exercise, morning tea and cards. 9.15 am Thursdays
Seasons
An after-school group at 4pm on Thursdays for children who have experienced a significant loss or grief in their lives. An adult programme runs at various times. Phone 0274521366 for information
COMING UP
Sunday May 1 – Confirmation Service at 9.30am. Bishop Ross Bay will be celebrating. (No 8am service this Sunday.)
Saturday May 7– Launch of the church restoration appeal from 12.30pm. Programme includes a display of photographs, organ recital, presentations on the significance of St Andrew's, a silent auction, and high tea. Admission is $25, tickets from the parish office or phone Jan 027 452 1366.
Saturday May 14– The Little Green Expo – Sustainability made Simple in the church complex, 10am-3pm (Rain date Saturday May 21)
St Andrew's Restoration Fundraising Dinner at Pukekohe Town Hall will now be held in November
PLEASE NOTE:
PCA receipts – Pukekohe Community Action is preparing receipts for the 2021 tax year. If you didn't receive a receipt for 2020, please let Jan know so this can be rectified.