COME, SPIRIT, COME!!!
Thursday 25th May was Ascension Day, signifying the end of Christ's presence on earth after the resurrection. This we celebrate on 27th May. Of course, this was not a day of celebration for the disciples who had spent the past
three years journeying with Jesus, seeing miracles and listening to his teachings. We can only imagine how they must have felt as their leader, teacher and guide left them. Despair, fear, loss and confusion must have been amongst their many feelings on that day, just as when we experience major changes and losses in our lives. Jesus
had tried to prepare his disciples for his leaving but it was too much for them to comprehend. He had also told them they would not be left alone.
We remember God's gift of the Holy Spirit on 5th June, Pentecost Sunday and the birthday of the church. Jesus
promised a companion to the disciples, and subsequently us.
The Holy Spirit is our companion throughout our life and God's promise to us is that we will never be left alone.
While some people may enjoy being alone, most appreciate having the opportunity to share with others, to have someone to befriend and confide in.
For a healthy life, I think this is important for all of us. Not having such a close relationship with someone created major problems for many people during the recent periods of lockdown and isolation. It has affected people across the spectrum: the elderly; the new mum at home alone with her baby; the dad who through inflation, high rents and mortgage repayments or loss of job, feels unable to provide for his family; the teens and young adults who are unable to gather with friends.
They have all suffered during this time and now some are left afraid to return to some or all of their previous activities. This causes major stress and tension in all aspects of our lives.
The Body of Christ, the Church, has a major role in such situations. We are needing to recreate relationships with others. Working as a connected body we have the opportunity to assist people in so many ways. We need to provide people with true hope for both now and for the future.
How can we best do this? It is a good question for us to stop and reflect on. Maybe there is something you think we could do to strengthen relationships. Please talk to me or one of the wardens if you have any suggestions.
One thing we are working on is our visiting team and making contact with people on our roll. Again, please talk to me if you would be willing to join us in doing this.
Remember there is true hope for both now and for the future.
We can encourage this hope through sharing the love of God, in Jesus as empowered through the Holy Spirit.
Let us start talking and sharing our thoughts and prayers.
Blessings to you all this Pentecost.
Jan
Please continue to pray for the people of Ukraine and surrounding countries, and all countries where they do not live in peace. Again, there is so much information being fed to these people. Let us pray that the people throughout the world will experience fresh hope and peace.
From the Registers
BAPTISM – Lyla Chapman
CONFIRMATIONS – Barbara Russell, Nechita Mencarreli-Skilton, Zara Wallace
FUNERALS – Sonia Butcher, Joyce Webb, Ailsa Wharfe, Vivienne Burr
Sunday Readings for June
First reading Gospel
5th First reading: Acts 2: 1–21; Gospel: John 14: 8–17
12th Proverbs 8: 1–4, 22–31; John 16: 12–15
19th 1 Kings 19: 1–4, 8–15a; Luke 8: 26–39
26th 2 Kings 2: 1–2, 6–14; Luke 9: 51–62
REST HOMES AND HOSPITAL SERVICES
Please see the weekly newsletter
Wednesday 1st: 10am Mothers' Union
Thursday 2nd: 10.30am Franklin Village
Tuesday 7th: 10.30am Palms rest home
Wednesday 8th: 10.30am Lakeside
Tuesday 14th: 11am Palms Hospital
Thursday 16th: 10.30am Fellowship
Thursday 23rd: 10am Church cleaning
Tuesday 28th: 11am Possum Bourne Village
HYMNS
As we get older, things of the past that we can remember become very precious to us. At rest homes I find that frequently those who can appear to be asleep begin joining in with the service, and often they still have their eyes closed. The most common prompts for this are the Lord's prayer in the form that is so familiar to them and words of the old familar hymns.
Unfortunately, music is not one of my gifts. We can have Spotify and such-like, but live music allows the residents to be involved in what they would like to sing.
We are in real need of singers at our rest home services. If you have one or more mornings a week that you would be able to help I would be very grateful for your help with this. It would also be great to have some people who are willing to play. Please let me know if you are willing to help with this. – Jan
SPECIAL SERVICES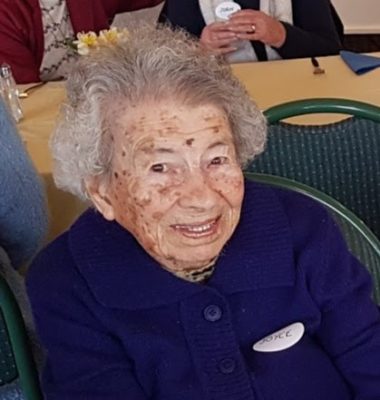 Memorial Service for Joyce Watson
1pm Saturday 11th June
Joyce was a longtime parishioner of St Andrew's Pukekohe and was involved in many activities in and around the church. It was unfortunate that because of Covid we were not able to have a celebration of her life last year.
You are invited to join us in this celebration. It would be appreciated if you could bring a plate to share for afternoon tea.
COMBINED SUNDAY EVENING REFLECTIVE SERVICE
with the parishioners of St Patrick's Catholic Church in Pukekohe
7pm Sunday 12th June, St Andrew's Pukekohe
YEAH AT LAST
Work is scheduled to begin on the restoration of the "Peace Memorial Arch" at St Andrew's on 20th June, weather, Covid and all other uncontrollable events co-operating with us.
This means that all going to plan we will be able to dedicate the arch in late November or early December, even though we may need to wait a little longer to have all the plaster work completed.
Do watch this space!
St Andrew's Restoration Fundraising Dinner at the Pukekohe Town Hall now scheduled for late November or early December 2022
At this stage we are trying to collect the names, email or physical addresses or phone numbers of people who may like to attend this event. Please email these details to Jan at jan.wallace@xtra.co.nz or the parish office at
pukekoheanglicanchurch@xtra.co.nz so as we can build up our contact list.
PYJAMA DRIVE
We are hoping we will be able to fill the requests for pyjamas over the next few weeks. Your support is very much appreciated as are contributions to the food bank. We are particularly short of pyjamas for both girls and boys in the size 6 to 14 range. We have a wonderful, generous community.
LITTLE GREEN EXPO
One of our church in community events, Community Networks Franklin's Little Green Expo was run at St Andrew's Pukekohe in conjunction with Waiuku Zero Waste and supported by Electrix and the Auckland City Council.
This was held 14th May. We had about 30 exhibitors and speakers, and about 250 visitors on the day.
SUSTAINABILITY
Native Land Snails
By Keith Gardner
Did you know that New Zealand has a wide range of carnivorous snails? No, they will not bite you, but they do eat worms found in the bush, consuming them like a piece of spaghetti.
These snails can be as small as a pinhead or as big as a large cookie. Each snail family has different markings, and they are so shiny they look like they have been varnished and polished. One species is shaped round and the
other long.
Powelliphanta is the name given to the snails that live mostly in the South Island and lower North Island. There are 21 species – and almost all are endangered. You are most likely to see them at night, under rocks and in very damp places, especially under leaf mould.
North of Auckland, the Kauri Snail is found in forests. Its shell is a flattened spiral of dark greenish colour about 60 to 80mm. It lives in the same forest as kauri trees, but the snail shuns the area around the kauri as it is usually too dry
for worms to live in. Its name is Paraphanta busbyi.
The Flax Snail (Placostylus) is a tall spired, solidly built chocolate to reddish-brown snail about 75mm high. It was once found along the coastline from North Cape to Whangaroa Harbour. But with land clearance, it can now only be found in isolated spots. It is vegetarian and feeds largely on fallen karaka leaves and the litter under flax bushes. The snail lays little white eggs about 5mm long.
These snails are also found on the islands of New Caledonia and the Solomon Islands, showing that at one time these islands were joined to the New Zealand land mass. The sand areas of Tom Bowling Bay and Cape Maria van Diemen were strewn with subfossil Placostylus snails.
Placostylus gardneri was named after N.W.A. Gardner, an expert on native land snails for most of his life. (This is Keith's father and we are extremely grateful to Keith for continuing to share his knowledge with us. Thanks Keith.)
FINANCES
PCA receipts: Pukekohe Community Action is preparing receipts for the 2021 tax year. If you didn't receive a receipt for 2020, please let Jan know so this can be rectified.
Parish receipts: Unfortunately these are issued by the diocese and are out of our control. We have not yet received them.
Health and Safety Policy
A DEFIBRILLATOR HAS BEEN INSTALLED BY THE OFFICE DOOR
A copy of the Parish Health and Safety Policy and the processes required for its implementation is on the shelf at the back of the church, published on our website or available from the parish office.
An evacuation plan is in each area for the church and complex.
Reid Anderson Hall: Assembly area is the car park behind the hall unless the emergency is on the south wall
preventing evacuation on that side of the building. In this case the assembly area is by the road in front of the church.
Nora Brown Hall: Assembly area is by the road in front of the church or on the vicarage lawn depending on the location of the emergency.
Other rooms in the complex: Assembly area moved to the vicarage lawn.
St Andrew's Church: Assembly area is by the road (Wesley St) at the front of the church.
St Paul's Church: Assembly area is by the road at the front of the church.
First aid kits and accident reporting sheets are located:
1. Reid Anderson – In the cupboard over the small hand basin, by the back door in the kitchen.
2. Nora Brown – on the shelf above the microwave. Record sheets are next to the microwave.
3. Parish office – 2nd to top shelf on left side in the back room.
The office is locked when unattended.
Forms are to be completed as soon as the accident has been dealt with.
Treatment, including resources used, to be recorded on the sheet.
DK CONCRETE – Floors, Driveways, Footpaths, Patios etc. Daniel Kircher, Ph 021 066 8356,  kirchaz@hotmail.com
HALLIWELL'S of Pukekohe – Stockists of Fine Quality Leather Shoes, 81 King St Pukekohe, Ph 2387686
PUKEKOHE TRAVEL – Locally owned and operated since 1978. Contact Eve Murphy, 89 King St Pukekohe, Ph 09-237 0013, info@pukekohe-travel.co.nz
WE COVER BUILDINGS WITH THE BEST COLORSTEEL – IN CORRUGATED OR STYLINE PROFILES – "STEEL YOURSELF FOR THE 21ST CENTURY" – Franklin Long Roofing Ltd, Franklin Rd Pukekohe, Ph 2389249 or After Hours 2380027
PARISH DIRECTORY
Vicar: The Rev'd Jan Wallace 238-7723 Home 238-7228 Office 0274-521-366 Mob
Email. jan.wallace@xtra.co.nz
Vestry
Chairperson Jan Wallace
Treasurer and acting Vestry secretary Karen Stevens
Wardens Pauline Brown Glenis Kerr
Synod Reps Vicky Mee
Vestry members Jocelyn Brodie, Renton Brown, Richard Gibbons, Richard Anderson, Maggie Gibson, Helen Halliwell, Julie Perelini, Philip Watson
Buckland Reps Jim Moore, Vicky Mee
Parish Ministry Team
Vestry Wardens Pauline Brown and Glenis Kerr Family Gael Crimmins Communications Cecily Daroux
Community Vicky Mee Sustainability Pauline Brown Worship Rev Jan Wallace, Ann Rollinson, Glenis Kerr.
Pastoral Care Rev Jan Wallace, Rev Merlene Walker
Administration
Treasurer Karen Stevens
Central Vestry Trust Board Treasurer Ros Phillips
Parish Recorder Keith Gardner (Parish Envelope Scheme)
Parish Administrator Judith Tucker
Office Hours Monday to Thursday, 9am ~ 2pm
Address 31 – 37 Queen St, PO Box 338, Pukekohe
Phone 09-238-7228
Email address pukekoheanglicanchurch@xtra.co.nz
Op Shop 9am ~ 12 noon on Wednesdays, Fridays and Saturdays
PASTORAL CARE
Community Programmes at Pukekohe Anglican Church
Space for you and baby
For the first year of baby's life. A number of groups are run each week to keep the age range of the babies within about 3 months. Term time only.
The Selwyn Foundation
For the older members of the community. A hot lunch is available for a small charge. Transport can also be arranged. Tuesday 9.30am
Oasis Music & Coffee group
A natural progression from Space for preschool children. Mon & Fri 9.15am ~11am. Term time only
St Andrew's Seniors fellowship group
For older members of the community – exercise, morning tea and cards. 9.15 am Thursdays
Seasons
An after-school group at 4pm on Thursdays for children who have experienced a significant loss or grief in their lives. An adult programme runs at various times. Phone 0274521366 for information
RESTORATION APPEAL
Our fundraising efforts will continue throughout the year. If you would like to donate towards the church restoration, please make your deposit to ANZ Bank account: either 06-0405-00078359-001 or 06-0405-0078359-01, depending on which bank your account is with. Make sure you put your name in the reference field and email Jan at
pukekoheanglicanchurch@xtra.co.nz so we can send you a tax receipt.
Many thanks in advance for your generosity.
COMING UP
Mothers' Union Wednesday 1st June, 10am – For those of you keen to meet up, join us for a cuppa and a chat in the lounge in Reid Anderson. Jan is hoping to be with us.
Sunday 5th June, 9.30am – Pentecost family service. Please bring a small plate to share for morning tea.
Saturday 11th June, 1pm – Memorial Service for Joyce Watson Please bring a plate to share for afternoon tea
Sunday 12th June, 7pm – Combined reflective service at St Andrew's Church, with St Patrick's.
Thursday 16th June, 10am – Fellowship Group gathers for a short service in the church followed by morning tea at a local café.
St Andrew's Restoration Fundraising Dinner at Pukekohe Town
Hall will now be held in late November or early December.