ORDINARY SUNDAYS OF THE CHURCH CALENDAR
That is certainly not how the beginning of the month has felt, after celebrating our first holiday to mark the Maori New Year, Matariki, on 24th June. This is a significant time in the history of New Zealand. It is great to have this special day in our calendar. So at this time, we remember those who have gone before us and their contributions to our land which we now enjoy, and which we accept the responsibility of caring for to enhance the lives of those who follow on from us.
What legacy do we want to leave for our children and future generations?
"Stars (Nga Whetu) remind us how amazing Atua (God) is.
How enormous and powerful and forever God is.
And yet the same God loves us and wants to be our friend.
God loves us so much – more than we can ever imagine." From the internet.
You will also find the key values of Matariki listed later in the Messenger. These include values that are very important to a healthy community. Certainly, they include and reflect many of the values of the church. Over the
past couple of years, the periods of isolation and the reduction in gatherings and celebrations we can share in have left us much poorer as a society. It is important for us as a church and as a community to attempt to restore the relationships we had, and to create opportunities for even more and stronger bonds as we gather and celebrate. By showing love, respect and caring, and helping everyone know they are loved and valued for who they are, we can help to build confidence and self-esteem.
There are many other things we now do that prevent us from feeling we are in ordinary times. I know I often wonder how much of our changed world will be the new normal. Will the wearing of masks become the common thing? I
commented to a mum at Space during the week about how strange it must be for young children now to have seen most faces wearing masks. Will it be normal for them to see the majority of people wearing masks?
I am impressed by the number of people in Pukekohe who are wearing face masks in the street. This will certainly help us and other people with the onset of the winter colds and flu viruses that are now with us.
It is hard for many people to return to how they were previously living and to move back into the community after extended periods of lockdown. Please know you are welcome to join in wherever and whenever you are
comfortable.
A huge thank you to everyone who has helped with the services over Ascension, Pentecost and Matariki as well as with the combined reflective service with the St Patrick's congregation and the memorial service for Joyce
Watson. We will be adding a plaque to the church wall recognising Joyce's great contribution to the church and the wider community.
Thank you also for the generous donations of pyjamas and food for the food bank. We are still receiving requests as the impact of inflation continues.
Many thanks and blessings to you all.
Jan
GARAGE SALE
Saturday, July 23
THE THREE MAJOR PRINCIPLES THAT GUIDE MATARIKI
• REMEMBRANCE — honouring those who have died since the last rising of Matariki
• CELEBRATING THE PRESENT — gathering together with family and friends
• LOOKING TO THE FUTURE — looking forward to the promise of a new year.
~~~~~~~~~~~~~~~
MATARIKI
key values, most significantly:
• aroha — love and respect for one another
• whakamaharatanga — remembrance
• kotahitanga — unity
• manaakitanga — caring
• tohatoha — sharing
• mana taiao — environmental awareness
• hākari — feasting
• wānanga — discussion
• noho tahi — coming together
• atawhaitanga — kindness
• whakanui — celebrations
• tuakiritanga — identity
FROM THE REGISTERS
BAPTISM – Blake Ashley Riddles
MEMORIAL SERVICE – Joyce Watson
SUNDAY READINGS
July 3rd: First reading, 2 Kings 5: 1–14; Gospel, Luke 10: 1-11, 16-20
July 10th: Amos 7: 7-17; Luke 10: 25-37
July 17th: Amos 8: 1-12; Luke 10: 38-42
July 24th: Hosea 1: 2-10; Luke 11: 1-13
July 31st: Hosea 11: 1-11; Luke 12: 13-21
REST HOMES AND HOSPITAL SERVICES
Please see the weekly newsletter
Thursday July 2nd, 10.30am: Franklin Village
Tuesday July 7th, 10.30am: Palms rest home
Wednesday July 8th, 10.30am: Lakeside
Tuesday 14th, 11am: Palms Hospital
Tuesday 28th, 11am: Possum Bourne Village
HYMNS
We are still in real need of singers and pianist/keyboard player at our rest home services. If you have one or more mornings a week that you would be able to help I would be very grateful.
REGULAR SERVICES
Every Sunday
8am and 9.30am at St Andrew's Pukekohe
2nd and 4th Sunday of the month
11.15am St Paul's Buckland
1st Sunday of the month
11.15am Nora Brown Hall behind St Andrew's church.
Mid-week Services
1st Wednesday of the month 10am
3rd Thursday of the month 10am
MEETING THE CHALLENGES IN TIMES OF CHANGE
Our parish, like many others, faces ongoing challenges because of Covid, other illnesses and government requirements to isolate. This has led us, as a Vestry, to stop and reflect on the programmes and services we offer in our changed environment.
We want to ensure all parishioners are kept informed of service changes, and the resumption of programmes and social gatherings. We all need to have relationships with others and the church is a good place to find these. Through the resumption of services and programmes we can re-establish our relationships and offer support to
our parishioners and the wider community. We need to continue questioning whether we are providing for the needs of our parish and community.
It is encouraging to see parishioners slowly starting to return to services and programmes, but we are aware some are still hesitant.
We would like to offer the opportunity over the next few weeks to check in with as many parish and community members as possible to find out how we can support and where practicable make future changes to meet their needs.
To do this, we need to update our records and we would like you to email pukekoheanglicanchurch.co.nz or text 027 452 1366, or phone 09 238 7723 to give us up-to-date email addresses and phone numbers. If you have cancelled your landline, please make sure we have your mobile number. Often people forget to do this. We can then contact you soon.
Services
There have been some changes to services. Our mid-week services at 10am on the first Wednesday and the third Thursday of the month are open for all. These are in addition to Sunday morning services.
There is also a service in the Nora Brown Chapel on the first Sunday of each month at 11.15 am.
After the 8am service each Sunday some members go on to the Robert Harris coffee lounge. All are welcome.
Morning tea is provided after the 9.30am services on site for all.
Our social activities are starting to be rescheduled, for example breakfasts, shared soup lunches and games evenings.
Income and Expenditures
To continue to maintain our services and buildings, we are appealing to you on behalf of the Vestry to consider switching to automatic payments. With fewer people currently attending worship, offerings are well down at present. Changing to automatic payments may help enormously with day-to-day expenditure. We do appreciate that
inflation is having an impact both in our homes and at the church.
Communication
The monthly Messenger is one important way we can communicate with our parishioners. We really want to carry on communicating with as many people as we can however, like everything else, postage has become more expensive. We are appealing to the people who go walking around the town to consider if they would be willing to drop off the Messenger to people who live on their walking route. For those Messenger readers attending church, please remember to collect your copy from the church foyer.
If you are able to receive the publication by email this would also save printing costs. We are very happy to provide print copies for parishioners who prefer or who find paper copies easier to read. We intend having as many of the paper copies as possible dropped into mailboxes by walkers. If you are a walker in the Pukekohe area and could help with this, please contact the office.
Community Support
We are still busy providing food parcels, emergency clothing, pyjamas and household items for anyone in need. We are thankful for the volunteers who work tirelessly to continue these services.
From the Parish Vestry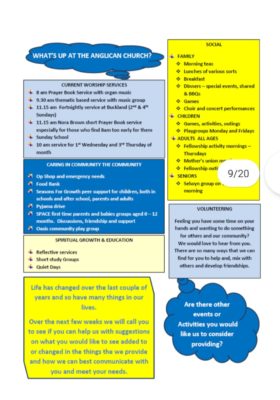 SUSTAINABILITY CHAMPIONS WORKSHOP
Calling all Anglican Diocese of Auckland Sustainability Champions and friends from Eco-Church network!        PLANTING, GROWING, SHARING TOGETHER — Saturday 9th July, 9.30am – 3pm, St John's Anglican Royal Oak 9:15am – Registration (cup of tea)
9:30am – Welcome and introduction activity
10am – Prayer and reflection with St John's Royal Oak
10:30am – Story: St John's Royal Oak community garden
10:45am – MORNING TEA
11am – Community gardens session – Gardens4Health
12:15pm – Funding opportunities – Auckland Council Climate Catalyst
12.30pm – LUNCH
1:15pm – Update on Eco Church – A Rocha Aotearoa New Zealand
1:45pm – Story: Zero Waste Sunday with Henderson Parish
2pm – Sustainability champions stories
2:50pm – Closing karakia (prayer)
For information email sustainability.fieldworker@aucklandanglican.org.nz
RESTORATION FUNDRAISING DINNER AND DANCE
Pukekohe War Memorial Town Hall
and BLESSING OF RESTORED ARCH (hopefully)
Saturday 12th November
At this stage we are trying to collect the names, email or physical addresses or phone numbers of people who may like to attend this event. Please email these details to Jan at jan.wallace@xtra.co.nz or the parish office at
pukekoheanglicanchurch@xtra.co.nz so as we can build up our contact list.
PARISH RECEIPTS
Hopefully you have now received your receipt for your parish offerings. If you have not received this or there is any problem, please contact the office.
PROPERTY
Arch Replacement Update – Change of Plans:
Plans were set to start the rebuilding of the core of the arch late in June, ready for later plasterwork to recreate the original look. This work is a heritage skill and unfortunately the company that was going to do the work has lost its specialist who has returned to his home overseas.
An extensive check has been unable to locate any suitably qualified and skilled plasterer to carry out the work.
However, an alternative approach has been identified by the architect. This is to use factory-cast fibre reinforced concrete panels that are fastened to a steel portal (frame) rather than a concrete and reinforced steel core. This is a
relatively recent development but the materials are well proven and examples have been checked.
In summary the process is:
1) Build concrete/steel foundations below ground level (as per existing design) but stop just below ground level.
2) Design and build a steel portal frame for the arch (in place of the present reinforced concrete design) with provision for attaching precast panels.
3) Then in the specialist factory build moulds and cast the fibre reinforced concrete panels
4) On site, attach the panels to the steel portal frame, making good all joins etc, and finish the task.
Discussions have been held with the heritage team at Auckland Council and they have indicated they are happy with the approach.
This process is now underway and the structural engineers are working with the cast panel manufacturers to revise the design. The builder will create the new footings as soon as the design is ready. In parallel, approvals for the
changed approach are being pursued with Auckland Council.
Thus, the start of the site work has been delayed, however the building process will involve less time on site because much of the work will be carried out in the panel-casting factory and the site work is primarily assembling the parts.
Once the details have been developed and all approvals confirmed, a timeline can be established.
Vicarage
The vicarage needs some significant work. Some wiring needs to be replaced and the floor needs repair. You will see that handrails have been installed to the back door.
Water Leaks
We are once again trying to find water leaks around the property. We have a $1300 account for water.
If you notice running taps or toilets or excessively wet areas around the property, please let us know either by reporting to Judith in the office Monday to Thursday mornings, putting a note through the slot by the office
door or sending an email or text to either the office, Jan, Renton Brown or Graham Russell.
We also ask you to be careful when leaving any of the church areas – please make sure you turn off the heaters and lights and lock the doors.
SUSTAINABILITY
THE TWO-DOLLAR COIN BIRD
By Keith Gardner
Do you know which bird is on the two-dollar coin?
It's the kotuku, the white heron. It is a rare bird, and quite big. It is a symbol of things beautiful and rare. The kotuku occupies an important place in Māori myth and folklore. Comparing a visitor to a kotuku was a compliment of the
highest order.
For most of the year, kotuku are loners. They feed by themselves in shallow estuaries, lakes, or ponds. They eat small fish, eels, frogs, tadpoles and insects.
In winter, kotuku from all around the country fly to their breeding place at Okarito, on the West Coast of the South
Island. They nest together in the kahikatea forest near the lagoon.
Each pair of kotuku builds a twiggy nest in tree ferns. Both parents look after the chicks, feeding them on baby fish (whitebait) from the lagoon. During the breeding season, kotuku grow long plumes from their back and wings.
There are up to 120 kotuku in New Zealand. From year to year the number stays about the same. There used to be a large number, but once their nesting place was discovered about 1873, people killed them for their beautiful
breeding feathers which they used to decorate hats. By 1940 only four nests remained at Okarito. The birds were on the verge of extinction. It was then they were protected, with rangers guarding the area. Slowly their numbers
have grown to a reasonable population today.
Although kotuku are rare in New Zealand, they also live in Australia, India, China, and Japan.
Overseas they are called egrets or great white herons. It is believed the birds came from Australia and developed the colony at Okarito.
Predators like stoats, possums and harrier hawks may threaten breeding success at times. Control programmes are in place for both stoats and possums.
Health and Safety Policy
A DEFIBRILLATOR HAS BEEN INSTALLED BY THE OFFICE DOOR
A copy of the Parish Health and Safety Policy and the processes required for its implementation is on the shelf at the back of the church, published on our website or available from the parish office.
An evacuation plan is in each area for the church and complex.
Reid Anderson Hall: Assembly area is the car park behind the hall unless the emergency is on the south wall
preventing evacuation on that side of the building. In this case the assembly area is by the road in front of the church.
Nora Brown Hall: Assembly area is by the road in front of the church or on the vicarage lawn depending on the location of the emergency.
Other rooms in the complex: Assembly area moved to the vicarage lawn.
St Andrew's Church: Assembly area is by the road (Wesley St) at the front of the church.
St Paul's Church: Assembly area is by the road at the front of the church.
First aid kits and accident reporting sheets are located:
1. Reid Anderson – In the cupboard over the small hand basin, by the back door in the kitchen.
2. Nora Brown – on the shelf above the microwave. Record sheets are next to the microwave.
3. Parish office – 2nd to top shelf on left side in the back room.
The office is locked when unattended.
Forms are to be completed as soon as the accident has been dealt with.
Treatment, including resources used, to be recorded on the sheet.
DK CONCRETE – Floors, Driveways, Footpaths, Patios etc. Daniel Kircher, Ph 021 066 8356,  kirchaz@hotmail.com
HALLIWELL'S of Pukekohe – Stockists of Fine Quality Leather Shoes, 81 King St Pukekohe, Ph 2387686
PUKEKOHE TRAVEL – Locally owned and operated since 1978. Contact Eve Murphy, 89 King St Pukekohe, Ph 09-237 0013, info@pukekohe-travel.co.nz
WE COVER BUILDINGS WITH THE BEST COLORSTEEL – IN CORRUGATED OR STYLINE PROFILES – "STEEL YOURSELF FOR THE 21ST CENTURY" – Franklin Long Roofing Ltd, Franklin Rd Pukekohe, Ph 2389249 or After Hours 2380027
PARISH DIRECTORY
Vicar: The Rev'd Jan Wallace 238-7723 Home 238-7228 Office 0274-521-366 Mob
Email. jan.wallace@xtra.co.nz
Vestry
Chairperson Jan Wallace
Treasurer and acting Vestry secretary Karen Stevens
Wardens Pauline Brown Glenis Kerr
Synod Reps Vicky Mee
Vestry members Jocelyn Brodie, Renton Brown, Richard Gibbons, Richard Anderson, Maggie Gibson, Helen Halliwell, Julie Perelini, Philip Watson
Buckland Reps Jim Moore, Vicky Mee
Parish Ministry Team
Vestry Wardens Pauline Brown and Glenis Kerr Family Gael Crimmins Communications Cecily Daroux
Community Vicky Mee Sustainability Pauline Brown Worship Rev Jan Wallace, Ann Rollinson, Glenis Kerr.
Pastoral Care Rev Jan Wallace, Rev Merlene Walker
Administration
Treasurer Karen Stevens
Central Vestry Trust Board Treasurer Ros Phillips
Parish Recorder Keith Gardner (Parish Envelope Scheme)
Parish Administrator Judith Tucker
Office Hours Monday to Thursday, 9am ~ 2pm
Address 31 – 37 Queen St, PO Box 338, Pukekohe
Phone 09-238-7228
Email address pukekoheanglicanchurch@xtra.co.nz
Op Shop 9am ~ 12 noon on Wednesdays, Fridays and Saturdays
PASTORAL CARE
Community Programmes at Pukekohe Anglican Church
Space for you and baby
For the first year of baby's life. A number of groups are run each week to keep the age range of the babies within about 3 months. Term time only.
The Selwyn Foundation
For the older members of the community. A hot lunch is available for a small charge. Transport can also be arranged. Tuesday 9.30am
Oasis Music & Coffee group
A natural progression from Space for preschool children. Mon & Fri 9.15am ~11am. Term time only
St Andrew's Seniors fellowship group
For older members of the community – exercise, morning tea and cards. 9.15 am Thursdays
Seasons
An after-school group at 4pm on Thursdays for children who have experienced a significant loss or grief in their lives. An adult programme runs at various times. Phone 0274521366 for information
COMING UP
Wednesday 6th July: Mothers' Union follows the 10am service on the first Wednesday of the month.
Thursday 21st July: Fellowship follows the 10am service on the third Thursday of the month – out to a café for refreshments and a catch-up.
Saturday 23rd July: Garage Sale. Set up from Tuesday 19th July – Friday 22nd July. Please help with moving sale items from the garage to the Reid Anderson Hall if you are able. Help also needed on the day 7.30am-11am and then with cleaning up.
RESTORATION APPEAL
Our fundraising efforts will continue throughout the year. If you would like to donate towards the church restoration, please make your deposit to ANZ Bank account: either 06-0405-00078359-001 or 06-0405-0078359-01, depending on which bank your account is with.
Make sure you put your name in the reference field and email Jan at pukekoheanglicanchurch@xtra.co.nz so we can send you a tax receipt.
Many thanks in advance for your generosity.
St Andrew's Restoration Fundraising Dinner at Pukekohe Town Hall will now be held on 12th November.