TIMES OF CHANGE AND CHALLENGE IN SICKNESS AND IN HEALTH
Firstly, a disclaimer. I am not a medical professional nor am I a sustainability expert, but I do listen, pray and care deeply about people, our country and our world. I attend "far too many" meetings but consider and evaluate how I see the issues and do learn a lot from them. So why that introduction?
We are all aware that we are experiencing extreme weather conditions, resulting in considerable stress, anxiety and pressure on people. It is not just in our own country but throughout the world. Without a doubt, we can all make some impact on this by the way in which we live our lives and the changes each of us is willing and able to make. Certainly, there are times when we have to make choices which may not necessarily be the best, but they will, I know, be the best we can at this time. Our best is all we can do and if each of us does just that we will make an impact. There are many animals and beautiful parts of our landscape that have no control or influence over their existence. Only we as humans given dominion over creation have the knowledge, skills, abilities and resources to impact the environmental changes that are already well underway much to the detriment of our, and other aspects of creation. Many people are hungry. There are stories of children sleeping alone in cars and I am very grateful for the way in which our community both within and beyond the church are responding to these needs. Again, we can't do it all and it's only by us, as individuals and as a community, doing what we can that we make any impact at all. Thank you to you all for all you do and the love, care and compassion you show for others, thank you Keith for your reminders to us about caring for creation, Vicky for your advocacy and Pauline, Renton and the many others who support our initiatives in the way in which you care for this property.
Moving along to "in sickness and in health", again we cannot deny the amount of sickness people have experienced in the past couple of months. Pandemics are not new, we have a new virus in our country and world and our challenge is how do we learn to adapt our lives, take precautions by all means and still have the peace, joy and love of God in our lives. We have choices, and we are not here to judge each other but to offer support, encouragement and at times advise each other. So what am I asking of you? Please take care of yourself and your loved ones, which in God's terms is all others. To do that the first of those is pivotal. We can't care for others if we are failing in our care of ourselves. So we know the list: Please, if you are able, wear a mask in public at the moment, as there is a lot of illness around; maintain your vaccinations if that is right for you; stay home if you are unwell and think about the situations you put yourself in. The world is full of different viruses, some controlled, others managed and some we are still learning to live with in our changing world. Again, we all need to do our bit.
People are largely relational beings. Most of us need people to communicate with regularly. The isolation that has been experienced by many people has had significant impact on the mental health of our society. I believe that as health situations improve for us as individuals and as a community, there is a need for us to support each other in taking steps back into a lifestyle where we can again live life in the love, joy, care, peace and hope that God wants for each of us.
I was excited last Sunday to have 43 of us venture out to the Hidden Café in Paerata, share food fellowship and fun together for all ages from 5 to 80+. I look forward to seeing the numbers in church also begin to grow as we seek to offer each other spiritual support.
Summer is coming, so yes, while adapting to the changes we are experiencing, I am hoping we can celebrate the opportunities we have to gather together, share good times and company.
Blessings to you all.
Take care Jan
PRAYER
Our way ahead in life still has challenges and obstacles.
Some are our everyday experience.
Some obstacles are particular times and circumstances.
Help us to remember that being in your presence
is a place in the deep assurance
that we do not travel on our own.
Take care to encourage and
guide each other where you can;
have courage to shift the blocks
and move the obstacles where you can.
Do not give up.
Persevere into the way of love and justice,
the life of faith in God.
The One: Creator, Wisdom, Spirit
guides us into fullness of life for the world.
Bless you and keep you now and forever. Amen
SUNDAY READINGS FOR SEPTEMBER 2022
4 September: First reading:  Jeremiah 18: 1-11, Gospel:  Luke 14: 24-33
11 September: Jeremiah 4: 11-12, 22-28 Luke 15: 1-10
18 September: Jeremiah 8: 18 – 9:1 Luke 16: 1-13
25 September: Jeremiah 32: 1-3a, 6-15 Luke 16: 9–31
REST HOMES AND HOSPITAL SERVICES
Singers welcome to help (rest home and hospital restrictions permitting)
Thursday 1 September: 10.30am Franklin Village
Tuesday 6 September: 10.30am Palms Rest Home
Tuesday 13 September: 11am Palms Hospital
Wednesday 14 September: 10.30am Lakeside
Tuesday 27 September: 11am Possum Bourne Village
REGULAR SERVICES
Every Sunday
8am and 9.30am at St Andrew's Pukekohe
2nd and 4th Sunday of the month
11.15am St Paul's Buckland
1st Sunday of the month
11.15am Nora Brown Hall behind St Andrew's church.
Weekdays 10am at St Andrew's
1st Wednesday of the month
3rd Thursday of the month
FROM THE PARISH VESTRY
Property
Unfortunately, there is another delay with the erection of the arch. We are not now expecting this to be completed by 12 November but are hoping it will be finished by Christmas. The planning is to still go ahead with the fundraising event on 12th November in the Pukekohe War Memorial Town Hall.
Again, thank you to all who have worked on the grounds and property. Maintaining the church, complex, grounds, the seven retirement units, the vicarage and a rental property certainly keeps a great team busy.
There are a number of people involved in this work so if you have something that you think needs doing and maybe would be happy to assist with, please do discuss this with Pauline, Renton, Graham, or Jan. Of course, the same applies to any area you think needs cleaning or tidying. Again, please let Jan know.
PARISH FAIR
Saturday 15 October
Cakes, Jams, BBQ, plants and more. Save the date and watch for more details.
SPECIAL FUNDRAISER: MUSIC FOR INSPIRATION
To renovate and preserve our beautiful church
Sunday 25 September 2pm
Let the NZ Three Tenors soothe mind and soul with melodies like My Way, Amazing Grace, White Cliffs of Dover, Nessun Dorma, Danny Boy, The Pearl Fishers and many more.
Presented by Operatunity and performed in St Andrew's!
Followed by High Tea ~ Donations Welcome. Tickets $60. 021-874-924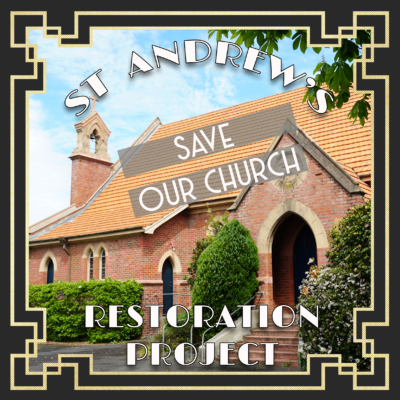 RESTORATION FUNDRAISING DINNER AND DANCE
& Blessing of Restored Arch (hopefully)
Saturday 12th November, Pukekohe War Memorial Town Hall
At this stage we are trying to collect the names, email or physical addresses or phone numbers of people who may like to attend this event. Please email these details to Jan at jan.wallace@xtra.co.nz or the parish office at pukekoheanglicanchurch@xtra.co.nz so as we can build up our contact list.
PARISH OUTING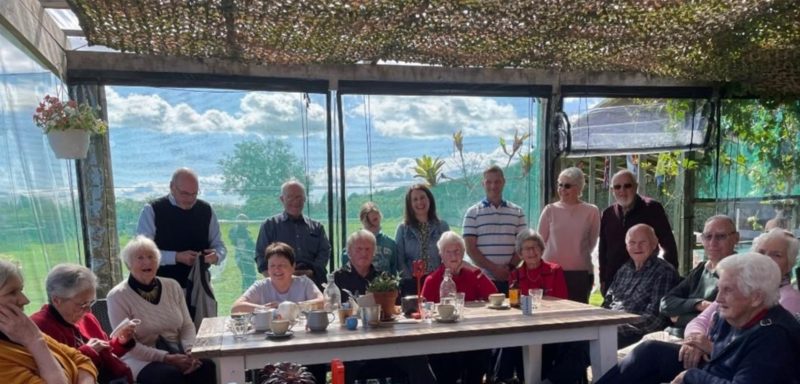 Forty-three of us aged from 5 to 85 shared food, fellowship and fun at the Hidden Cafe at Paerata for lunch last Sunday.
BACK BY POPULAR DEMAND
FAMOUS PARISH SUNDAY BREAKFAST RETURNS TO THE PARISH DIARY
CATERED BY RICHARD ANDERSON & TEAM
Sunday 2 October 8.45am
FOLLOWED BY
ST FRANCIS DAY BLESSING OF OUR ANIMALS AND CREATION
Sunday 2 October 9.45am
COMMUNITY SERVICE
A reminder for us to pause and celebrate the beauty of nature, our pets and creation, and at the same time the need for us to take care of our environment.
HANDEL CONSORT & QUIRE — BELSHAZZAR
Sunday 9 October, St Andrew's
Adults $40, seniors $35, students free with ID. Save $10 off the door price by booking via Eventfinds or through the parish office. Prices include programme and supper.
SUSTAINABILITY
TUATARA LIKE IT COOL
By Keith Gardner
There are four groups of reptiles living today.
1 Turtles
2 Crocodile and alligators
3 Lizards
4 Tuatara (a group on their own)
Tuatara are the last survivors of a group of reptiles that lived with the
dinosaurs. Tuatara are our largest living reptiles, weighing up to 1.5kg when fully grown. They live only in the wild on 32 predator-free islands. (Stephens Island is home to around 30,000.)
They grow more slowly than other reptiles and mature at 35. Their life span is 60 to 100 years.
Tuatara feel at home among trees, making their burrows among tree roots or at the base of tree trunks. They even use decaying tree stumps or logs.
The tuatara's spine looks more like that of a fish or an amphibian than a lizard and its ribs are like those of a crocodile. Their top jaw has two rows of teeth and the bottom jaw one. They slide their jaws together when eating. They eat beetles, weta, worms, millipedes and spiders – and occasionally their own young!
The tuatara's most curious body part is its "third eye" on the top of its head. The "eye" has a retina, lens and nerve endings yet it is not used for seeing. It is visible under a young tuatara's skin but becomes covered with scales and pigment in a few months, making it hard to see.
Tuatara shed their skins once a year and their colour ranges from olive green to brown or orange red. The temperature of the soil surrounding their eggs determines the sex of tuatara hatchlings. More males than females are born when is warm. Females can only breed every two to five years.
Tuatara don't like the temperature to be above 25C. They are most active in the cool evenings. You can see why climate change will have an effect on tuatara in New Zealand .- KCC & DOC
Health and Safety Policy
A DEFIBRILLATOR HAS BEEN INSTALLED BY THE OFFICE DOOR
A copy of the Parish Health and Safety Policy and the processes required for its implementation is on the shelf at the back of the church, published on our website or available from the parish office.
An evacuation plan is in each area for the church and complex.
Reid Anderson Hall: Assembly area is the car park behind the hall unless the emergency is on the south wall
preventing evacuation on that side of the building. In this case the assembly area is by the road in front of the church.
Nora Brown Hall: Assembly area is by the road in front of the church or on the vicarage lawn depending on the location of the emergency.
Other rooms in the complex: Assembly area moved to the vicarage lawn.
St Andrew's Church: Assembly area is by the road (Wesley St) at the front of the church.
St Paul's Church: Assembly area is by the road at the front of the church.
First aid kits and accident reporting sheets are located:
1. Reid Anderson – In the cupboard over the small hand basin, by the back door in the kitchen.
2. Nora Brown – on the shelf above the microwave. Record sheets are next to the microwave.
3. Parish office – 2nd to top shelf on left side in the back room.
The office is locked when unattended.
Forms are to be completed as soon as the accident has been dealt with.
Treatment, including resources used, to be recorded on the sheet.
DK CONCRETE – Floors, Driveways, Footpaths, Patios etc. Daniel Kircher, Ph 021 066 8356,  kirchaz@hotmail.com
HALLIWELL'S of Pukekohe – Stockists of Fine Quality Leather Shoes, 81 King St Pukekohe, Ph 2387686
PUKEKOHE TRAVEL – Locally owned and operated since 1978. Contact Eve Murphy, 89 King St Pukekohe, Ph 09-237 0013, info@pukekohe-travel.co.nz
WE COVER BUILDINGS WITH THE BEST COLORSTEEL – IN CORRUGATED OR STYLINE PROFILES – "STEEL YOURSELF FOR THE 21ST CENTURY" – Franklin Long Roofing Ltd, Franklin Rd Pukekohe, Ph 2389249 or After Hours 2380027
PARISH DIRECTORY
Vicar: The Rev'd Jan Wallace 238-7723 Home 238-7228 Office 0274-521-366 Mob
Email. jan.wallace@xtra.co.nz
Vestry
Chairperson Jan Wallace
Treasurer and acting Vestry secretary Karen Stevens
Wardens Pauline Brown Glenis Kerr
Synod Reps Vicky Mee
Vestry members Jocelyn Brodie, Renton Brown, Richard Gibbons, Richard Anderson, Maggie Gibson, Helen Halliwell, Julie Perelini, Philip Watson
Buckland Reps Jim Moore, Vicky Mee
Parish Ministry Team
Vestry Wardens Pauline Brown and Glenis Kerr Family Gael Crimmins Communications Cecily Daroux
Community Vicky Mee Sustainability Pauline Brown Worship Rev Jan Wallace, Ann Rollinson, Glenis Kerr.
Pastoral Care Rev Jan Wallace, Rev Merlene Walker
Administration
Treasurer Karen Stevens
Central Vestry Trust Board Treasurer Ros Phillips
Parish Recorder Keith Gardner (Parish Envelope Scheme)
Parish Administrator Judith Tucker
Office Hours Monday to Thursday, 9am ~ 2pm
Address 31 – 37 Queen St, PO Box 338, Pukekohe
Phone 09-238-7228
Email address pukekoheanglicanchurch@xtra.co.nz
Op Shop 9am ~ 12 noon on Wednesdays, Fridays and Saturdays
PASTORAL CARE
Community Programmes at Pukekohe Anglican Church
Space for you and baby
For the first year of baby's life. A number of groups are run each week to keep the age range of the babies within about 3 months. Term time only.
The Selwyn Foundation
For the older members of the community. A hot lunch is available for a small charge. Transport can also be arranged. Tuesday 9.30am
Oasis Music & Coffee group
A natural progression from Space for preschool children. Mon & Fri 9.15am ~11am. Term time only
St Andrew's Seniors fellowship group
For older members of the community – exercise, morning tea and cards. 9.15 am Thursdays
Seasons
An after-school group at 4pm on Thursdays for children who have experienced a significant loss or grief in their lives. An adult programme runs at various times. Phone 0274521366 for information
COMING UP
Daylight Saving: A reminder that clocks go forward an hour at 2am on Sunday 25 September.
Fundraising Concert: Sunday 25 September, 2pm in the church. Tickets are still available for Operatunity's Music for Inspiration. The NZ Three Tenors will sing a range of popular songs in a special fundraising performance for the St Andrew's Restoration Project. Tickets are $60, from Graham Russell on 021 874 924 or the parish office. High Tea follows in the Nora Brown Hall – entry donation welcome.
Handel's Quire Concerts: Back for the first time in 2022! The Quire will be performing Handel's Belshazzar at 3pm on Sunday 9 October. It will also be staging a Christmas concert on Sunday 4 December – ticket details to come.
Parish Fair: Saturday 15 October. "White Elephant Stall" with cakes, jams, BBQ, plants and more. Watch this space for details.
Restoration Appeal
If you would like to donate towards the church restoration, please make your deposit to ANZ Bank account: either 06-0405-00078359-001 or 06-0405-0078359-01, depending on which bank your account is with. Make sure you put your name in the reference field and email Jan at pukekoheanglicanchurch@xtra.co.nz so we can send you a tax
receipt. Many thanks in advance for your generosity.