A LIFE OF SERVICE
The events of the past two weeks since the death of Queen Elizabeth II have been interesting to follow. The Queen has been a committed and caring leader of the Commonwealth, the Church of England and the World Wide Communion of the Anglican Church, including Aotearoa New Zealand Polynesia. She was very dedicated to her role and showed compassion and a good sense of humour. To me, she exemplified the words of the well-known hymn below.
O Jesus, I have promised
To serve thee to the end;
Be thou forever near me,
My Master and my friend;
I shall not fear the battle
If thou art by my side,
Nor wander from the pathway
If thou wilt be my guide.
She will be remembered with love.
We now have King Charles III as the head of our church.
We are currently beginning to hold events to raise funds for the restoration of St Andrew's. We have a big challenge ahead of us. Thank you to Graham for organising the wonderful Operatunity Concert and Pauline Brown for organising the high tea. One of the people at the concert asked me who the architect was who designed the church, because the person found the acoustics amazing. There were also several comments about the need to restore the beautiful church and how we need to work together to achieve this goal.
Thank you to all who contributed.
The focus of our 9.30 worship over the past month has been on the care of creation.
I appreciated a story I read and shared in my sermon on 25 September.
It was an ancient story about a botanist who was studying the heather bell in the highlands of Scotland. While looking through his microscope at this beautiful flower, a shepherd approached him and asked what he was doing.
Rather than trying to explain, the botanist invited the shepherd to peer through his microscope and observe for himself. When the shepherd saw the wonder of the flower, he exclaimed, "My God, and I have been tramping on them all my life!"
Is that the word of warning we need?
Wake up! Pay attention! Look around you.
You may be tramping on the heart of someone nearby.
Vicky Mee shared with us about being part of the Eco Church NZ – a Rocha Aotearoa Project — and the significance of this.
The end of our Season of Creation in our church calendar finishes on St Francis' Day but our work and ministry in this area must continue throughout the year. The world continues to witness extreme weather conditions causing disaster in many counties. It is important that each of us does our part by contributing to our care of creation.
We do have a full programme through to the end of the year with worship events and concerts. It is so good to be in a position where we can look forward to sharing Christmas properly. We will be taking every opportunity this year to celebrate the birth of Christ and I know it will be even more special for many people who have not been able to join with members of the family or special friends of late. Let us not forget the true meaning and purpose of Advent which begins at the start of December, just two months away, and prepare well for Christmas day.
Take care and blessings to all.
Jan
DRAFT DIARY FOR END OF YEAR
Sunday 2 Oct Parish Breakfast and Community Blessing of Animals
Sunday 9 Oct Handel Quire (Concert)
Saturday 15 Oct 8am Parish Fair
Thursday 27 Oct Social Service Expo (Town Hall 10am – 4pm
Saturday 29 Oct Franklin Choir (Concert)
Sunday 30 Oct All Saints' Day Services
Wednesday 2 Nov All Souls' Day Memorial services 12 noon and 7pm
Saturday 12 Nov 5pm Restoration Dinner and Dance at the Pukekohe Town Hall
Tuesday 22 Nov PCA Information-sharing evening in Reid Anderson Hall
Sunday 4 Dec Handel Quire Christmas Concert
Sunday 11 Dec Proposed Pageant 9.30am
Sunday 11 Dec Nine Lessons and Carols evening service with Franklin Community Choir
Sunday 18 Dec Blue Christmas evening service
TBA Possum Bourne Carol Singing
Saturday 24 Dec 5pm Families Christmas story at St Andrew's
Saturday 24 Dec 7.30pm at St Paul's, Buckland
Saturday 24 Dec 11pm Carols and Mass at St Andrew's
Sunday 25 Dec Christmas Day 8am and 9.30am at St Andrew's
THURSDAY 27 OCTOBER – SOCIAL SERVICES EXPO
Do try to pop along to the Social Services Expo at the Pukekohe War Memorial Town Hall and see some of the services that are available in Franklin. Open 10am until 4pm.
ALL SOULS' DAY SERVICES
Wednesday 2 November, noon and 7pm
St Andrew's Pukekohe. All are welcome.
SUNDAY READINGS FOR OCTOBER 2022
First reading Gospel
2 Oct: 8am First reading Lamentations 1: 1-16; Gospel Luke 17: 5-10
9.45am To be advised
9 Oct: Jeremiah 29: 1, 4-7; Luke 17: 11-19
16 Oct: Jeremiah 31: 27-34 Luke 18: 1-8
23 Oct: Joel 2: 23-32 Luke 18: 9-14
30 Oct: Habakkuk 1: 1-4, 2: 1-4 Luke 19: 1-10
REST HOMES AND HOSPITAL SERVICES
Singers welcome to help
Tuesday 4 Oct 10.30am Palms Rest Home
Thursday 6 Oct 10.30am Franklin Village
Tuesday 11 Oct 11am Palms Hospital
Wednesday 12 Oct 10.30am Lakeside
Tuesday 25 Oct 11am Possum Bourne Village
Wednesday 2 Nov 12 noon and 7pm St Andrew's, All Souls' Day
REGULAR SERVICES
Every Sunday
8am and 9.30am at St Andrew's Pukekohe
2nd and 4th Sunday of the month
11.15am St Paul's Buckland
1st Sunday of the month
11.15am Nora Brown Hall behind St Andrew's Church.
Weekdays 10am at St Andrew's
1st Wednesday of the month 3rd Thursday of the month
FROM THE PARISH VESTRY
Arch Replacement
Some progress!
We have been advised that Auckland Council has approved the revised building consent so we can now proceed to get everything made and then installed.
We will advise you when we can sort the dates for onsite work.
The church seismic strengthening is on hold until funding is secured.
You will see that a new footpath has been installed down the fenceline to the units. If you are parking in the back car park to go across to the medical centre or to go down to the shops, you are most welcome to park there but as electric cars and newer cars run more quietly, we do ask that people walk down the foot path as these vehicles are hard to hear and some people who are not aware of people walking through the car park do not travel at safe speeds.
FROM THE 2022 SYNOD
From Vicky Mee, our Synod representative.
Jan and I attended the 2022 Synod this year which was held at Holy  Trinity Cathedral in Parnell on Thursday evening, 1 September, and through the day of Friday 2 September.
The Bishops' charge on the Friday covered:
• the impact of Covid-19 and the importance of being able to meet together again.
• report on Lambeth Conference.
• a renewed focus on ministry formation and growth in vocations.
• Selwyn Foundation and City Mission developments.
• participation in the work of the Royal Commission of Inquiry into Abuse in Care.
• apology to those failed by the Church and its institutions.
This Synod was focused on the internal working of our Church. Six of the eight motions put forward were concerned with how the church operates.
These motions in the order they were discussed:
Motion 1 – Legal Business Committee (procedural motion to receive report) PASSED
Motion 2 – Synod review PASSED
• Asks Diocesan Council to set up a working group.
• Working group to review the structures of Synod to best serve the future governance needs of the diocese.
Motion 3 – Three-tikanga structure PASSED
It is more than 30 years since the three-tikanga structure was established, including Māori, Pākehā and Pasefika.
• Synod requests a review of the structure by General Synod Te Hīnota Whānui.
• A caveat from the Bishop that this should not be decided by Tikanga Pākehā alone.
Motion 5 – Intergenerational opportunities PASSED
• Asks ministry units and Anglican partners to explore ways to include children and young people in the ministry of the Church.
• Commends the work of the new diocesan Ministry Formation Team.
Motion 6 – Ministry unit property PASSED
• Asks Diocesan Council to set up a working group.
• Working group to undertake a long-term strategic review of the physical resources of the diocese and the best physical and funding structures to deliver the mission of the Church into the future.
Motion 7 – Centralised accounting services PASSED
• Asks Diocesan Council to initiate an independent review of Trust Management Limited's centralised accounting service to the diocese, including processes and performance.
There were two group discussion sessions when small groups (around six per group) explored further the issues raised in Motion 6.
Motion 2 –
1. The Maintenance Challenge
• What is the primary challenge relating to the care of our buildings?
• How should we fund ongoing maintenance?
2. The Structure of Synod
• What are the barriers/challenges to Synod's effectiveness?
• If Synod is restructured what elements should be retained?
• What aspects of our diversity should be considered?
The feedback from these discussions goes to working groups set up to review these issues as agreed in the motions.
Only two of the eight motions prepared for Synod were outward-looking. One was on our natural environment:
Motion 4 – Our urban ngahere (forests) PASSED
• Synod affirms the crucial role of trees and plants
• All Anglicans are urged to promote protection of and education about trees and other plants
• Ministry units are encouraged to explore ways to enhance native biodiversity.
The last and eighth motion was one I put forward as I am concerned that the increasing cost of living is affecting families and the fallout is often that teenagers' education suffers, as does the total capability of our population. Jan added information about absenteeism to give weight to the concern about falling national capability.
Motion 8 – Early school leaving and absenteeism because of family poverty NOT DEBATED
That this Synod, following the Covid crisis, calls on the New Zealand Government to:
• urgently fund initiatives to keep students engaged in school.
• provide a substantial targeted income-tested tax credit for families with 15- to 18-year-olds in education that would
supplement the existing Family Tax Credits.
This motion grew out of observing a Pukekohe grandmother I work with who is raising her 16-year-old granddaughter while struggling with rental costs of $550 per week and increasing food prices with no income other than her superannuation. The granddaughter, a bright girl, doing well at school, is considering leaving school, getting a job and taking the burden off her grandmother's shoulders.
This story, or variations on it, is repeating all around the country at the moment as plenty of teenagers listening to family conversations about lack of money are doing the honourable thing, putting their hand up and saying "I'll get a job". And there are jobs out there …. minimum-wage jobs …. jobs with no prospects.
The concern is not just for those leaving school. Many young students with strong family values are helping feed their families by picking up shifts at supermarkets and fast-food outlets and trying to combine earning with learning. Unfortunately increasing school absenteeism and falling qualification levels are the result.
Through this motion I looked to us, as a Synod looking out, to call on the Government to fund initiatives to keep children engaged in school and to take the financial pressure off struggling families with older teenagers in school.
Unfortunately, the tight agenda of a one-day Synod meant this motion was not debated and will be forwarded to Diocesan Council for consideration because time ran out at Synod to discuss it. I have sent my speaking notes to the Bishop and given him a list of names of people from other ministry units who approached me as they are
seeing the same problem arising in their area (it's mainly a South Auckland problem) and want the Church to speak out to ensure that family income is not a barrier to attending school.
As always, Synod was a wonderful opportunity to connect with people throughout the diocese and feel part of this greater church. It was a short and internally focused Synod but seeds were sown to examine some of the nuts and bolts of how we operate and in particular the huge commitment of time, energy and resources needed to keep roofs
on so many church buildings.
The promise was that priorities may well change over future Synods and provide the foundation for a more dynamic missional church.
Vicky Mee
PARISH FAIR
Saturday 15 October from 8am
Cakes, Jams, BBQ, books, plants and more. We would appreciate donations for the raffle and the tombola. These can be brought to church on Sundays and put in the boxes at the back. They can also be left in the church office Monday to Thursday, between 9am and 2pm. Setting up for the fair will begin on Tuesday 11 October and run through to Friday 14 October. If you have any large goods to deliver or any items that you would like to be collected, we would appreciate you leaving it until that week to help us with storage and to also save double handling.
HELP IS ALSO NEEDED ON THE DAY FROM 7.30am.
RESTORATION DINNER
with the Off Broadway Big Band
Pukekohe Anglican Parish fundraising for the quake strengthening of St Andrew's.
Pukekohe Town Hall, 5pm, Saturday 12 November, 2022
Tickets for meal and band $75, or come and enjoy the auction and the band for $20.
Let's work together to save this landmark church!
We are trying to collect the names, email or physical addresses or phone numbers of people who may like to attend this event. Please email these details to Jan at jan.wallace@xtra.co.nz or the parish office at pukekoheanglicanchurch@xtra.co.nz so we can build up our contact list.
Tickets are available from Graham Russell (027 452 1366) and Jan Wallace (09 238 7723). These can be paid for online — Restoration account 06-0405-00078359-001. Please include your name and phone number.
Spread the word by sharing our Facebook post at https://www.facebook.com/St-Andrews-Pukekohe-489029787859146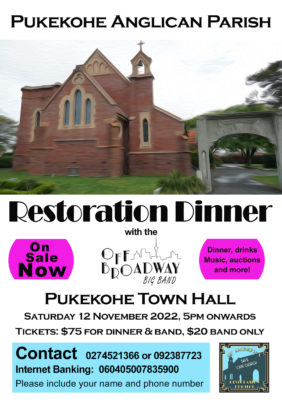 HANDEL CONSORT & QUIRE
BELSHAZZAR
Sunday 9 October, 3pm, St Andrew's Anglican Church, Pukekohe.
Soloists: Sid Chand, Gina Sanders, Cecily Shaw, Rosel Labone and James Roberson.
Adults $40, seniors $35, Students free with ID. Save $10 off the door price by booking via Eventfinda or through the Parish Office.
SUSTAINABILITY
By Keith Gardner
CONSERVATION DOGS 
It's no longer the job of the Department of Conservation (DoC) and enthusiasts to help detect and trap pests in our reserves and parks, they have a tool that is admired around the world – DOGS.
Dogs have been used for doing this work for more than 40 years. New Zealand was the first country to use dogs for the benefit of conservation. Richard Henry in the 1890s used dogs to find kiwi and kakapo and then he put these threatened birds on what he thought was a pest-free island. But the island was within swimming distance of stoat, and they were killed. Even though the experiment was a failure it lay the groundwork for the future use of dogs in bird protection work.
Dogs are trained to sniff out protected species (mainly birds) for survey and monitoring. They track pest species such as rodents, mustelids, Argentine ants and weeds in pest-free areas that would destroy our native wildlife and fauna.
Certain breeds of dog are best suited for this work. Indicators (setters and pointers) are used to find certain species. Terriers are used to find pests. New Zealand is a world leader in pest eradication programmes. Australia has been helped to use conservation dogs to find feral cats and rodents. New Zealand has supplied dogs to Japan to find mongooses. It takes about 18 months to train a dog, but they still have ongoing training for many years. They have a working life of up to 10 years. The trainers keep the dogs as pets and undergo many hours of training working with target or pest species.
Piri is a working dog on Auckland's docks. She will wander around sniffing bags on ships and barges. Piri is a ratter, especially trained to sniff out rodents. She works mainly on boats visiting the islands in the Hauraki Gulf which are home to some of New Zealand's most threatened species such as kiwi.
THINGS YOU CAN DO TO SHOW YOUR PETS YOU LOVE THEM
• Feed your pets healthy food and give them fresh water.
• Exercise your pet.
• Pay attention to what they want to do.
• Take your pet to the vet when it seems to be not its usual self.
• Provide a nice, warm place to sleep.
• Cuddle/touch them. It helps your mental health and your pet's.
Health and Safety Policy
A DEFIBRILLATOR HAS BEEN INSTALLED BY THE OFFICE DOOR
A copy of the Parish Health and Safety Policy and the processes required for its implementation is on the shelf at the back of the church, published on our website or available from the parish office.
An evacuation plan is in each area for the church and complex.
Reid Anderson Hall: Assembly area is the car park behind the hall unless the emergency is on the south wall
preventing evacuation on that side of the building. In this case the assembly area is by the road in front of the church.
Nora Brown Hall: Assembly area is by the road in front of the church or on the vicarage lawn depending on the location of the emergency.
Other rooms in the complex: Assembly area moved to the vicarage lawn.
St Andrew's Church: Assembly area is by the road (Wesley St) at the front of the church.
St Paul's Church: Assembly area is by the road at the front of the church.
First aid kits and accident reporting sheets are located:
1. Reid Anderson – In the cupboard over the small hand basin, by the back door in the kitchen.
2. Nora Brown – on the shelf above the microwave. Record sheets are next to the microwave.
3. Parish office – 2nd to top shelf on left side in the back room.
The office is locked when unattended.
Forms are to be completed as soon as the accident has been dealt with.
Treatment, including resources used, to be recorded on the sheet.
DK CONCRETE – Floors, Driveways, Footpaths, Patios etc. Daniel Kircher, Ph 021 066 8356,  kirchaz@hotmail.com
HALLIWELL'S of Pukekohe – Stockists of Fine Quality Leather Shoes, 81 King St Pukekohe, Ph 2387686
PUKEKOHE TRAVEL – Locally owned and operated since 1978. Contact Eve Murphy, 89 King St Pukekohe, Ph 09-237 0013, info@pukekohe-travel.co.nz
WE COVER BUILDINGS WITH THE BEST COLORSTEEL – IN CORRUGATED OR STYLINE PROFILES – "STEEL YOURSELF FOR THE 21ST CENTURY" – Franklin Long Roofing Ltd, Franklin Rd Pukekohe, Ph 2389249 or After Hours 2380027
PARISH DIRECTORY
Vicar: The Rev'd Jan Wallace 238-7723 Home 238-7228 Office 0274-521-366 Mob
Email. jan.wallace@xtra.co.nz
Vestry
Chairperson Jan Wallace
Treasurer and acting Vestry secretary Karen Stevens
Wardens Pauline Brown Glenis Kerr
Synod Reps Vicky Mee
Vestry members Jocelyn Brodie, Renton Brown, Richard Gibbons, Richard Anderson, Maggie Gibson, Helen Halliwell, Julie Perelini, Philip Watson
Buckland Reps Jim Moore, Vicky Mee
Parish Ministry Team
Vestry Wardens Pauline Brown and Glenis Kerr Family Gael Crimmins Communications Cecily Daroux
Community Vicky Mee Sustainability Pauline Brown Worship Rev Jan Wallace, Ann Rollinson, Glenis Kerr.
Pastoral Care Rev Jan Wallace, Rev Merlene Walker
Administration
Treasurer Karen Stevens
Central Vestry Trust Board Treasurer Ros Phillips
Parish Recorder Keith Gardner (Parish Envelope Scheme)
Parish Administrator Judith Tucker
Office Hours Monday to Thursday, 9am ~ 2pm
Address 31 – 37 Queen St, PO Box 338, Pukekohe
Phone 09-238-7228
Email address pukekoheanglicanchurch@xtra.co.nz
Op Shop 9am ~ 12 noon on Wednesdays, Fridays and Saturdays
PASTORAL CARE
Community Programmes at Pukekohe Anglican Church
Space for you and baby
For the first year of baby's life. A number of groups are run each week to keep the age range of the babies within about 3 months. Term time only.
The Selwyn Foundation
For the older members of the community. A hot lunch is available for a small charge. Transport can also be arranged. Tuesday 9.30am
Oasis Music & Coffee group
A natural progression from Space for preschool children. Mon & Fri 9.15am ~11am. Term time only
St Andrew's Seniors fellowship group
For older members of the community – exercise, morning tea and cards. 9.15 am Thursdays
Seasons
An after-school group at 4pm on Thursdays for children who have experienced a significant loss or grief in their lives. An adult programme runs at various times. Phone 0274521366 for information
COMING UP
Parish Sunday Breakfast: 2 October, 8.45am. Catered by Richard Anderson and his team.
FOLLOWED BY
St Francis' Day Blessing of our Animals and Creation: Sunday 2 October 9.45am. This is a community service.
Handel's Quire Concerts: The Quire will perform Handel's Belshazzar at 3pm on Sunday 9 October. Adults $40, seniors $35, students free with ID. Save $10 off the door price by booking through the parish office or eventfinda. The quire will also be staging a Christmas concert on Sunday 4 December – ticket details to come.
Parish Fair: Saturday 15 October, 8am – 11am. "White Elephant Stall" plus cakes, jams, books, BBQ, plants and more.
St Andrew's Restoration Fundraising Dinner: Saturday 12 November, 5pm at Pukekohe Town Hall. Tickets for meal and Off Broadway Big Band $75, or just the band $20. Available from Graham Russell or parish office. Pay online to Restoration account 06-0405-00078359-001.
Restoration Appeal: If you would like to donate towards the church restoration, please make your deposit to ANZ Bank account: either 06-0405-00078359-001 or 06-0405-0078359-01, depending on which bank your account is with. Make sure you put your name in the reference field and email Jan at pukekoheanglicanchurch@xtra.co.nz so
we can send you a tax receipt. Many thanks in advance for your generosity.