TIME TO REFLECT
The spring blossoms are beautiful at this time of the year and we are currently experiencing more sunshine bringing more warmth back into our lives. The question is, of course, how long will it last with our climatic conditions changing so rapidly? The warmer temperatures do make it easier to get up in the morning and the beauty of creation is more obvious. Will we have, or be able to make, time to appreciate this?
Our shops, on the other hand, are full of Halloween decorations overlooking the Christian celebrations of All Saints' and All Souls' Days.
It is good for us to pause and reflect on those people who have helped us on our spiritual journeys. I am sure most of us can recall at least one person who has influenced our journey in faith, a relative or a stranger who we have looked at with admiration, and reflected on what it is that motivated them to live the life they have. Maybe a child,
a church member or even sitting in wonder at the beauty of creation, finding peace and becoming aware of God's presence. We may respond, saying to ourselves 'I have never experienced that'.
The question then becomes, have we taken or made the opportunity to do so?
We currently have six first-time parents' groups running, covering three different age groups. I have had to change from saying first-time mums to first-time parents as we now have a number of dads bringing their babies along. Each time I walk through the Reid Anderson Hall with its fantastic natural light and ventilation – which enables to reach out to more people as Covid restrictions ease – I think of the many people who helped and supported the planning and fundraising involved in its renovation. I am sure many of you will remember its dark red paint and the kitchen and toilets being on the other side of the building and receiving all the sunlight and warmth.
In November we enter the season of Advent and at that time we prepare for the coming of the Christ Child into our lives. Are there things we can do now to give us more time to focus on the coming of Christmas in December? I am sure many of you are already seeing your diary is filling up quite fast.
Advent begins at the end of November. This is meant to be a time for us to slow down, take time out and reflect on this special nature of the season in the church calendar.
We can pause and reflect on Jesus' life and the beauty of our surroundings at this very special time of the year.
The preparation for our restoration dinner is well in hand and in getting ready for this, we remember and give thanks to all who worked so hard to build our beautuful church with its wonderful acoustics.
Take care and blessings to all.
Jan
DRAFT DIARY FOR THE END OF THE YEAR
Wednesday November 2: All Souls' Day Memorial services 12 noon and 7pm
Saturday November 12: Restoration Dinner and Dance 5pm Town Hall. Tickets available from the parish office
Tuesday November 22: PCA Information sharing evening in Reid Anderson Hall
Sunday December 4: Handel Quire Christmas Concert
Sunday December 11: Proposed Pageant 9.30am
Sunday December 11: Nine Lessons and Carols evening service with Franklin Community Choir
Sunday December 18: Blue Christmas evening service
TBA: Possum Bourne Carol Singing
Saturday December 24: 5pm Families Christmas story
Saturday December 24: 7.30pm Buckland Christmas service
Saturday December 24: 10.30pm Carols and Mass
Sunday December 25: Christmas Day 8am and 9.30am
ST ANDREW'S ALL SOULS' DAY SERVICES
12 noon and 7pm, Wednesday November 2. All are welcome.
Pukekohe Intermediate School concert at 1.30pm.
SUNDAY READINGS FOR NOVEMBER 2022
Nov 6: First reading Haggai 1: 15b – 2:9; Gospel Luke 20: 27-38
Nov 13: Isaiah 65: 17-25; Luke 21: 5-19
Nov 20: Jeremiah 23: 1-6 Luke 23: 33-43
Nov 27: Isaiah 2: 1-5 Matthew 4: 17-22
REST HOME AND HOSPITAL SERVICES
Singers welcome to help
Tuesday Nov 1: 10.30am Palms Rest Home
Wednesday Nov 2: 12 noon and 7pm St Andrew's
Thursday Nov 3: 10.30am Franklin Village
Tuesday Nov 8: 11am Palms Hospital
Wednesday Nov 9: 10.30am Lakeside
Tuesday Nov 22:11am Possum Bourne Village
REGULAR SERVICES
Every Sunday
8am and 9.30am at St Andrew's Pukekohe
2nd and 4th Sunday of the month
11.15am St Paul's Buckland
1st Sunday of the month
11.15am Nora Brown Hall behind St Andrew's Church
Weekdays 10am at St Andrew's
1st Wednesday of the month 3rd Thursday of the month
FROM THE PARISH VESTRY
We have continued to have a busy social life with many concerts, the parish fair and supporting the Community Networks Franklin Social Services Expo. The expo gives us the opportunity to display the wide range of care activities provided by the Op Shop, food bank, Seasons for Growth, Space and our Oasis playgroup.
Considerable interest is being shown by members of the community in the wonderful Restoration Dinner signs we have around the town and the information that has been emailed to people.
Let's work together to save this landmark church.
If you have names to add to our contact list, please email the details to Jan at jan.wallace@xtra.co.nz or the parish office at pukekoheanglicanchurch@xtra.co.nz
Tickets are available from Graham Russell and the Parish office. These can be paid for online – Restoration account 06-0405-00078359-001
So what is happening with the restoration? We are just waiting for the funds.
Fundraising and sending out of appeals have started.
I have spoken with both the Lotteries Foundation and the Department of Internal Affairs about applications and we will be exploring that shortly, once we have done some fundraising ourselves. They usually need to see some indication of organisations making some effort themselves before they offer support.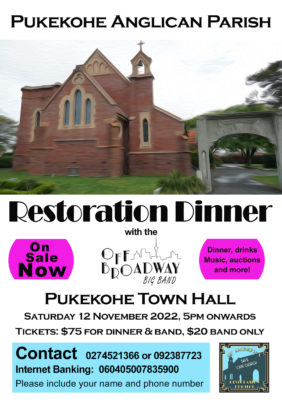 PUKEKOHE COMMUNITY ACTION OPEN EVENING
Tuesday November 22, 5pm-7pm
Come along and hear about our programmes and projects.
5pm-5.30pm mix and mingle and check out our displays
5.30pm hear from the chair of our trust board and directors, followed by some of our team leaders and participants.
Ask questions and chat to those involved.
FOOD PARCELS, SPACE, OASIS, SEASONS FOR GROWTH
SUSTAINABILITY
By Keith Gardner
NESTING TIME 
As it is Spring heading towards summer, birds are building nests for laying eggs in and raising chicks. When you see a bird with grass, twigs, wool, hair, moss, thistledown or fluff in its mouth, chances are it is gathering nesting materials.
Larger birds like tūī make rough nests from twigs and sticks, and may line them with a little moss. Smaller birds, like silvereyes, use finer material, even hair and spider webs.
Most smaller baby birds do not foul their nests with their droppings. Their droppings come out in a tiny, sealed bag called a faecal sac. The parents can then just take the sac in their beaks and carry it away from the nest. When the babies get older, they deposit their droppings over the side of the nests. The nests do get a bit grubby and may contain parasites. That's why birds usually make a new nest for each family.
If you find a nest in a tree, watch from a distance and listen carefully. You may hear the chicks inside. Do not risk having a look as the nest could fall out of the tree, and you may scare the parent birds so much they will abandon their eggs or chicks.
Each year between spring and summer, fantails can make up to four nests, raising five chicks in each. It's a pity rats, stoats and possums eat their eggs and chicks before they can leave their nests.
Some of our birds build nests in hollow logs or a burrow but scientists have found a flaw in these nests. They do not have a back door for escape so the birds become easily trapped by predators who hunt with their noses and not eyes.
Building a nest is a skilled job. It can involve hundreds of trips to get all the materials. Birds start off weaving twigs then add moss and hair to strengthen the nest. They always build the nest to the right size for the species of bird. Of course, the shining cuckoo lays its eggs in the nest of the small grey warbler and will toss out the chicks of the nest builder when they increase in size. The poor grey warbler parents feeding the cuckoo chicks find it hard to keep up with the demands for food. The cuckoo chicks end up larger than the foster parents. The shining cuckoo is called a brood parasite.
You can often tell which birds are nesting by finding eggs or fragments on the ground. Fantails' eggs are blue. A blackbird's egg is a blue green. A thrush's egg is bluish green with tiny dark spots at the larger end and a tūī's is whitish and pale pink with reddish brown spots. A sparrow's egg is white to green with dark spots.
Health and Safety Policy
A DEFIBRILLATOR HAS BEEN INSTALLED BY THE OFFICE DOOR
A copy of the Parish Health and Safety Policy and the processes required for its implementation is on the shelf at the back of the church, published on our website or available from the parish office.
An evacuation plan is in each area for the church and complex.
Reid Anderson Hall: Assembly area is the car park behind the hall unless the emergency is on the south wall
preventing evacuation on that side of the building. In this case the assembly area is by the road in front of the church.
Nora Brown Hall: Assembly area is by the road in front of the church or on the vicarage lawn depending on the location of the emergency.
Other rooms in the complex: Assembly area moved to the vicarage lawn.
St Andrew's Church: Assembly area is by the road (Wesley St) at the front of the church.
St Paul's Church: Assembly area is by the road at the front of the church.
First aid kits and accident reporting sheets are located:
1. Reid Anderson – In the cupboard over the small hand basin, by the back door in the kitchen.
2. Nora Brown – on the shelf above the microwave. Record sheets are next to the microwave.
3. Parish office – 2nd to top shelf on left side in the back room.
The office is locked when unattended.
Forms are to be completed as soon as the accident has been dealt with.
Treatment, including resources used, to be recorded on the sheet.
DK CONCRETE – Floors, Driveways, Footpaths, Patios etc. Daniel Kircher, Ph 021 066 8356,  kirchaz@hotmail.com
HALLIWELL'S of Pukekohe – Stockists of Fine Quality Leather Shoes, 81 King St Pukekohe, Ph 2387686
PUKEKOHE TRAVEL – Locally owned and operated since 1978. Contact Eve Murphy, 89 King St Pukekohe, Ph 09-237 0013, info@pukekohe-travel.co.nz
WE COVER BUILDINGS WITH THE BEST COLORSTEEL – IN CORRUGATED OR STYLINE PROFILES – "STEEL YOURSELF FOR THE 21ST CENTURY" – Franklin Long Roofing Ltd, Franklin Rd Pukekohe, Ph 2389249 or After Hours 2380027
PARISH DIRECTORY
Vicar: The Rev'd Jan Wallace 238-7723 Home 238-7228 Office 0274-521-366 Mob
Email. jan.wallace@xtra.co.nz
Vestry
Chairperson Jan Wallace
Treasurer and acting Vestry secretary Karen Stevens
Wardens Pauline Brown Glenis Kerr
Synod Reps Vicky Mee
Vestry members Jocelyn Brodie, Renton Brown, Richard Gibbons, Richard Anderson, Maggie Gibson, Helen Halliwell, Julie Perelini, Philip Watson
Buckland Reps Jim Moore, Vicky Mee
Parish Ministry Team
Vestry Wardens Pauline Brown and Glenis Kerr Family Gael Crimmins Communications Cecily Daroux
Community Vicky Mee Sustainability Pauline Brown Worship Rev Jan Wallace, Ann Rollinson, Glenis Kerr.
Pastoral Care Rev Jan Wallace, Rev Merlene Walker
Administration
Treasurer Karen Stevens
Central Vestry Trust Board Treasurer Ros Phillips
Parish Recorder Keith Gardner (Parish Envelope Scheme)
Parish Administrator Judith Tucker
Office Hours Monday to Thursday, 9am ~ 2pm
Address 31 – 37 Queen St, PO Box 338, Pukekohe
Phone 09-238-7228
Email address pukekoheanglicanchurch@xtra.co.nz
Op Shop 9am ~ 12 noon on Wednesdays, Fridays and Saturdays
PASTORAL CARE
Community Programmes at Pukekohe Anglican Church
Space for you and baby
For the first year of baby's life. A number of groups are run each week to keep the age range of the babies within about 3 months. Term time only.
The Selwyn Foundation
For the older members of the community. A hot lunch is available for a small charge. Transport can also be arranged. Tuesday 9.30am
Oasis Music & Coffee group
A natural progression from Space for preschool children. Mon & Fri 9.15am ~11am. Term time only
St Andrew's Seniors fellowship group
For older members of the community – exercise, morning tea and cards. 9.15 am Thursdays
Seasons
An after-school group at 4pm on Thursdays for children who have experienced a significant loss or grief in their lives. An adult programme runs at various times. Phone 0274521366 for information
COMING UP
All Souls' Day Memorial Services: Wednesday November 2, 12-noon and 7pm. Join us as we gather to remember the loved ones we have lost. Please feel free to invite family members and friends to join with you. If you know anyone who has lost a loved one, please share this invitation with them.
Pukekohe Intermediate School Choir: Wednesday November 2, 1.30pm. The choir will be performing in the Church after the All Souls' Day Service.
St Andrew's Restoration Fundraising Dinner: Saturday November 12, 5pm at Pukekohe Town Hall. Tickets for meal and Off Broadway Big Band $75, or just the band $20. Available from Graham Russell or parish office. Pay online to Restoration account 06-0405-00078359-001.
Handel's Quire Christmas Concert: Sunday December 4. Ticket details to come.
Restoration Appeal: If you would like to donate towards the church restoration, please make your deposit to ANZ Bank account: either 06-0405-00078359-001 or 06-0405-0078359-01, depending on which bank your account is with. Make sure you put your name in the reference field and email Jan at pukekoheanglicanchurch@xtra.co.nz so
we can send you a tax receipt. Many thanks in advance for your generosity.